New components are engineered to withstand harsh and even corrosive conditions in a host of industrial manufacturing, automation and process control applications.
Rockwell Automation Fair 2013

LISLE, Ill.--Molex Incorporated has announced the expansion of its line of SST Communication Modules with the launch of its new CLXT Modules, designed for use with Rockwell ControlLogix XT PLCs in harsh and corrosive industrial environments. Molex, a Rockwell Encompass global partner, will feature the new SST CLXT Modules at Rockwell Automation Fair 2013, November 13-14, in Houston, TX, Booth 1501.
"Our new CLXT Modules complement the existing line, offering robust design features that provide a higher level of protection required to withstand harsh and extreme environments," states George Kairys, product manager, Molex. "Fully integrated into Rockwell Integrated Architecture, our SST Communication Modules provide industrial users with an ideal solution for their networking needs."
Kairys adds: "Our entire SST line was developed to provide more integrated, flexible, easier-to-use connectivity solutions for reliable interoperability of industrial automation network protocols. The products enable optimized data transfer for high-speed control and other critical performance applications."
Engineered to withstand the toughest environmental conditions, the new CLXT Modules for Rockwell ControlLogix are available in three versions: the SST-ESR2-CLXT Module for Ethernet and Serial Connections, the SST-ER4-CLXT Serial Communication Module with four Modbus serial ports and the SST-PB3-CLXT-RLL for Profibus Master/Slave applications. All versions feature wider temperature ranges, conformal-coated boards and harsh-duty components. All of these modules are currently shipping with the latest firmware releases, debuted at Rockwell Automation Fair 2013.
The new modules are built to perform reliably in oil and gas plants, oil drilling rigs, wastewater treatment sites, steel mills, automotive manufacturing plants and other industrial sites where the presence of caustic or corrosive chemicals can threaten the integrity and performance of sensitive electronics.
For more information about Molex SST™ Communication Modules and new CLXT Modules for use with Rockwell ControlLogix XT PLCs, visit www.molex.com/link/sstcommunicationmodules.htm. To receive information on other Molex products and industry solutions, please sign up for our e-nouncement newsletter at http://www.molex.com/link/register.
About Molex Incorporated
Providing more than connectors, Molex delivers complete interconnect solutions for a number of markets including: data communications, telecommunications, consumer electronics, industrial, automotive, commercial vehicle, aerospace and defense, medical, and lighting. Established in 1938, the company operates 45 manufacturing locations in 17 countries. The Molex website is www.molex.com. Follow us at www.twitter.com/molexconnectors watch our videos at www.youtube.com/molexconnectors, connect with us at http://www.facebook.com/molexconnectors and read our blog at www.connector.com.
Featured Product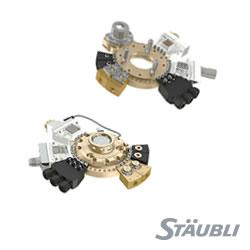 TX2 robots: redefining performance by offering collaborative safety and high performance in a single machine. These pioneering robots can be used in all areas, including sensitive and restrictive environments, thanks to their unique features. Safety functions are easy and inexpensive to implement. They allow a higher level of interactions between robots and human operators, while still guaranteeing protection of your people, production and investment.