Designed to accommodate four workers, including their service equipment, and can raise its infinitely adjustable platform to a maximum height of eight meters.
KUKA, the Augsburg-based robot manufacturer and automation specialist, introduced its "Triple Lift" mobile lift platform at the InterAirport trade fair in Munich. The vehicle is designed to accommodate four workers, including their service equipment, and can raise its infinitely adjustable platform to a maximum height of eight meters, which makes it ideal for performing maintenance work on wide-body aircraft.

Its design differs from platforms with stacked scissor lift tables in that it dispenses with the large number of individual joints. Instead, the lifting mechanism relies on three telescoping masts, which provide significantly greater stiffness and minimize platform sway while the platform is being raised.
Perfect assistant for aircraft repair and maintenance: the mobile lift platform KUKA Triple Lift.
Furthermore, when the platform is lowered, the entry point is at a height of only 75 centimeters, allowing users to board the platform ergonomically by ascending only two steps. Its four unique Mecanum wheels allow this positioning pro from KUKA to move omnidirectionally - even with its platform raised - without ever having to reorient the wheels. This enables flexible handling even in highly confined spaces. The Triple Lift is used to perform work such as painting and maintenance on aircraft fuselages. The vehicle is operated using an intuitive remote control that enables it to be maneuvered into the desired working position with millimeter precision. And it accomplishes this entirely without a combustion engine: drive power is supplied by maintenance-free batteries that support intermediate charging.
KUKA Roboter, well known for its automation application solutions in a wide range of sectors, continues to forge ahead along the path to mobile industrial applications. The Augsburg experts have also enjoyed market success with the KUKA omniMove work platform, which is ideal for internal transportation of large, heavy parts involved in aircraft construction, wind power and a wide range of other sectors.
"The 'Triple Lift' is the perfect complement to our low-profile heavy-load transport platforms, as well as the solutions we have developed in the area of 'mobile industrial robotics'; it's ideal for aircraft maintenance because it combines the advantages of the omniMove drive technology with an extremely stiff lifting mechanism. Orders from international customers affirm that we're on the right path," says Robert Witte, Industrial Business Development Manager for the omniMove products from KUKA Roboter.
Featured Product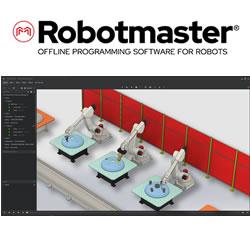 Robotmaster delivers unmatched, full-function off-line programming capability for robots - easy programming of precise robot motion control and quick generation of path trajectories of any size, with minimal programmer intervention. Our strong background in CAD/CAM (Computer Aided Manufacturing) software has enabled us to bring a revolutionary approach to programming industrial robots.