Spiroflow's automated Cableflow Tubular Drag Conveyor solution delivers coffee from multiple roasters at the touch of a button. The system gently moves whole bean and ground coffee to a new high speed packaging line at a rate of 10,000 lb/hr.
Monroe, NC November 19, 2013

An increase in demand prompted Eight O'Clock Coffee to invest in a second high-speed packaging system. Until this time, Eight O'Clock Coffee had been using mechanical and dilute-phase pneumatic conveyors to move whole bean and ground coffee from roasters to the packaging equipment. The addition of the new packaging equipment required an additional conveying system that could transfer coffee from 11 roasters to bagger hoppers above the packaging equipment while minimizing material degradation.
The required closed conveying system needed to transport material at 10,000 lb/hr, fit into the existing plant footprint, run with minimal operator interaction for optimum productivity, eliminate dust in compliance with OSHA, improve sanitary operations with advanced handling techniques and provide Eight O'Clock Coffee a short payback on their investment.
Eight O'Clock Coffee chose to work with Spiroflow Systems who recommended a mechanical conveying solution featuring Cableflow® Tubular Cable Drag Conveyors.
A continuous flexible 304 stainless steel cable is installed inside the enclosed tubes, and solid, food-grade, ultra-high-molecular-weight polyethylene (UHMW-PE) circular discs are mounted on the cable at 6 inch intervals. The discs are shaped to ease material movement and reduce degradation. Since the discs are nearly the same diameter as the tubes, their narrow clearance with the tube walls ensures that the coffee stays between them during conveying and minimizes residue on the tube walls. To minimize downtime between product runs, food-grade wiper discs mounted periodically on the cable keep the tubes clean. When a material changeover takes place, a felt-wrapped clean-out disc with alcohol applied is used to clean the conveyor thoroughly.
The conveyor can travel in multiple directions, from horizontal to vertical and at many angles. Instead of traditional sprockets and bearings at corners, the tubing is bent to form sweeps. "By doing that, you're not taking the material around hard edges," says Dave Hesketh, Spiroflow's Vice President of Engineering. "The goal is to create a smooth path for the product without creating a shear point on the conveyor that would trap the product against the wall or the joints in the system, where degradation would occur."
Spiroflow Systems supplied four 4" diameter stainless steel tubular drag conveyors. All four conveyors utilize 304 stainless steel cables with UHMW polyethylene discs and are fitted with Spiroflow's patented Dynamic Automatic Rope Tensioning system (DART) which maximizes cable life and minimizes operator maintenance.
One 34' long tubular drag conveyor is operated by an individual control panel. Three additional conveyors are operated by a single master control panel and transport ground or whole bean coffee to a packaging hopper.
*One 74' long conveyor has 3 legs and 2 directional changes, 2 inlets and 1 outlet. This conveyor transports whole bean and ground coffee from their silos to the high speed packaging machine hopper.
*One 86' long conveyor has 3 legs and 2 directional changes, a sight glass, 1 inlet and 1 outlet. This conveyor transports whole bean coffee from new silo #6 to the high speed packaging machine hopper.
*One 103' conveyor has 8 legs and 5 directional changes, a sight glass, 4 inlets and 1 outlet. This conveyor transports whole bean coffee from silos #, 2, 3 & 4 to the new whole bean conveyor.
The conveyors and process equipment are fully automated and integrated with a central controller, allowing remote control and monitoring of the entire process from one location. Using the controller interface, an operator enters the SKU for one of the company's coffee products and pushes the start button. The controller then automatically opens and closes the necessary valves, and the conveying system moves the beans or ground coffee through the production process from the roaster to the packaging system.
During installation, the Spiroflow engineering & installation team upgraded the wire cable from ¼ inch to 5/16 inch cable with fully encapsulated, coupling-free one-piece discs to maximize performance. "The design was beefed up and now is wonderful," says Plant Manager, Richard Holiday. He notes that the tubular drag conveyor outfitted with Spiroflow's patented Dynamic Automatic Rope Tensioning system "is designed to automatically bring up the slack of the tensioning system rather than needing to correct slack manually. This is time saving and reduces breakdowns."
Other features Holiday cites as beneficial include the tubular drag conveyor's ability to make three types of directional changes, its slide gates that allow material to go to two different machines, its gentle conveying for whole beans, and its clean-out cylinder. This cylinder allows the coffee to be easily drained into a tote with no need to connect pipes, drains or hoses like the previous system required.
Holiday says his company hasn't experienced any mechanical issues since the upgraded rope was installed. In fact Eight O'Clock Coffee has been so satisfied that Spiroflow Systems was recently on-site to install two additional tubular drag conveyors. "I would say that the tubular drag conveying system is running 99.8 percent," says Holiday. "It's a slow-moving system that allows us to convey a lot of coffee. It's very reliable and dependable and our operators love it. We also love that Spiroflow is very service-oriented with great support and resources."
For over 40 years, Spiroflow has designed, engineered and manufactured its leading line of powder handling solutions. A worldwide supplier of powder handling engineering and equipment, Spiroflow offers a wide range of standard and custom options for both small and large volume users. Products include bulk bag unloaders (also called bulk bag dischargers) and bulk bag fillers, flexible screw, aero mechanical, tubular cable drag, tubular chain drag and pneumatic conveyors, box, sack and drum dump stations, and the 'Pacepacker' range of automatic packing, pick and place and robotic palletizing solutions.
Primary markets include food, dairy, snack food, confectionery, beverage, pet food, pharmaceutical, packaging, industrial, chemical, plastics, minerals, cement, water treatment, environmental, waste, and recycling. For more information about Spiroflow Systems and their complete product line of bulk material handling solutions visit http://www.spiroflowsystems.com or call 704-246-0900.
For more information about Eight O'Clock Coffee go to http://www.eightoclock.com.
Read the complete case study published in the November 2014 issue of Powder & Bulk Engineering.
Featured Product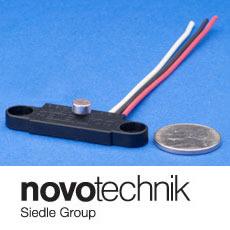 Vert-X 05E Series of dual angle/speed sensors. The series features easy mounting in small and narrow spaces with a 5 mm body depth and mounting flanges with metal inserts. The sensors make measurements only 6 mm from edge of product for close-to-wall measurement applications. Vert-X 05E Series sensors measure angles from 0 to 360°, rotational speed and direction with repeatability to 0.1°.