During AUS&R in Tel Aviv, Velodyne's David Oroshnik to Assess Emerging Defense and Commercial Applications for LiDAR Technology
Morgan Hill, CA November 20, 2013

With recent advances in low-cost unmanned aerial vehicles, coupled with similar breakthroughs in GPS and inertial measurement systems, the sky may well be the limit for new commercial and military opportunities to deploy high-definition 3D LiDAR.
Navigating those opportunities in depth in a presentation at the first AUS&R Expo on Autonomous, Unmanned Systems & Robotics, in Rishon-LeZion, Israel on Nov. 26, Velodyne's David Oroshnik will address how high-definition 3D LiDAR can expand the scope and effectiveness of military operations. The Expo, sponsored by i-HLS, is targeted at developers and users of systems, platforms, payloads, sensors, and software related to autonomous unmanned aerial systems and robotics.
Who: David Oroshnik is lead technical sales engineer at Velodyne's LiDAR division and brings 20+ years of relevant experience to the unit. He has a long history with autonomous vehicles and LiDAR, having worked on an early Mars rover. Prior to joining Velodyne, Oroshnik served as director of product management at Sportvision, the leading developer of special effects for televised sporting events. At Trimble Navigation, he developed expertise in GPS, mapping, and geo-referencing while developing hardware and software for navigation products. Oroshnik earned an engineering degree from Rensselaer Polytechnic Institute and an MBA from the University of California, Berkeley.
What: "New Applications for LiDAR Technology"
Oroshnik will examine such areas as remote nighttime 3D mapping of hostile locations, landing site reconnaissance, autonomous and self-landing aircraft, and intrusion detection. In addition, he will explore potential commercial opportunities in building information management, project monitoring, and asset inventory, inspection and monitoring (including highway infrastructure, vegetation incursion, and land and rock movements).
When: Tuesday, November 26 - 9:45 a.m. (Israel time)
Where: AUS&R 2013 Expo - Autonomous, Unmanned Systems & Robotics, Rishon-LeZion, near Tel-Aviv
How: To learn more about the Expo, please visit: http://i-hls.com/2013/07/ausr2013/.
About Velodyne LiDAR
Founded in 1983 and based in California's Silicon Valley, Velodyne, Inc. is a diversified technology company known worldwide for its high-performance audio equipment and high-definition LiDAR sensors for autonomous vehicle applications. The company's LiDAR division evolved after founder and inventor David Hall competed in the 2004-05 DARPA Grand Challenge using stereovision technology. Based on his experience during this challenge, Hall recognized the limitations of stereovision and developed the HDL64 high-resolution LiDAR sensor. More recently, Velodyne has released its smaller, lightweight HDL 32E sensor, available for many applications including UAV's. Since 2007, Velodyne's LiDAR division has emerged as a leading developer, manufacturer and supplier of high-definition LiDAR sensor technology used in a variety of commercial autonomous vehicle applications, including 3D mapping and surveying. For more information, visit http://www.velodynelidar.com.
Featured Product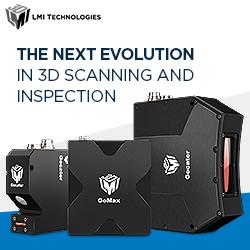 Every robot needs eyes to see, think, and do. Gocator® 3D smart sensors add powerful vision-guidance and inspection capability to industrial robots. You can use these sensors in a wide variety of factory automation applications. Pair them with scara, delta, and collaborative robots to create complete robotic solutions that deliver high-performance 3D results in vision-guidance, quality control inspection, and automated assembly with smart pick-and-place. Make your robot FactorySmart® with Gocator 3D smart sensors.