Cornerstone Automation Systems, LLC (CASI), a producer of innovative material handling, packaging and manufacturing automation, has placed an order for a fleet of Adept "Lynx" mobile robots.
Pleasanton, Calif., December 3, 2013 - Adept Technology, Inc. (Nasdaq:ADEP), a leading provider of intelligent robots, autonomous mobile solutions and services, today announced that Cornerstone Automation Systems, LLC (CASI), a producer of innovative material handling, packaging and manufacturing automation, has placed an order for a fleet of Adept "Lynx" mobile robots. CASI will integrate the robots into state-of-the-art pharmacy automation systems slated to deploy at three customer facilities in the United States over the coming year. CASI has also been named Adept's first preferred partner for mobile robots.

CASI's pharmacy automation systems are a next-generation solution for automated dispensing at centralized pharmacies. The turnkey systems use Adept's Lynx mobile robot platform to transport standard and controlled substances within a pharmacy facility with a new level of efficiency, security and traceability.
"The Adept Lynx robot platform, combined with our own integrated handling mechanisms and controls, provides the security and traceability not achievable by any other means," said Michael Doke, CASI executive vice president. "Lynx stood out to us for many reasons-its open interface has made it extremely easy to integrate into our 'SolidSuite Rx' software for inventory control. Lynx is fully autonomous and does not require additional infrastructure to operate so it is easy to deploy. And Adept's 'Enterprise Manager' software allows complete management of an entire Lynx fleet, ensuring optimal efficiency."
Adept President and CEO Rob Cain said, "We are pleased to welcome CASI as a preferred partner for mobile robots. Our companies have a very successful history together in the implementation of industrial robots at some strategic customers. We are excited to be a part of the unique solution CASI is providing for pharmacy automation and look forward to establishing our foothold in this promising market."
Adept's Lynx is a self-navigating Autonomous Indoor Vehicle (AIV) for moving material in dynamic environments that may include confined passageways, people and other obstacles. Simple to deploy, Lynx systems require no facility modifications and can be programmed and functional within a day. These efficient, reliable systems are designed to be compatible with a variety applications and payloads.
Adept preferred partners are selected for their advanced technical capabilities and knowledge base in their respective markets. Preferred partners define, configure, and deliver fully integrated solutions using Adept robots, software, and grippers to increase speed and efficiency on production and material handling lines.
About Cornerstone Automation Systems, LLC
Cornerstone Automation Systems (CASI) is a manufacturer that designs and implements state-of-the-art intelligent automation for industries such as distribution and pharmacy fulfillment. The company boasts decades of experience in developing advanced automation and has the in-house design and field engineering staff to deliver a world-class automated system at a competitive price using modular customizable components. CASI's next-generation pharmacy solutions are designed to boost fulfillment efficiency, security and material traceability, ultimately lowering customers' operating costs and enhancing patient safety. For more information, visit www.cornerstoneautosys.com.
About Adept Technology, Inc.
Adept is a global, leading provider of intelligent robots and autonomous mobile solutions and services that enable customers to achieve precision, speed, quality and productivity in their assembly, handling, packaging, testing, and logistical processes. With a comprehensive portfolio of high-performance motion controllers, application development software, vision-guidance technology and high-reliability robot mechanisms with autonomous capabilities, Adept provides specialized, cost-effective robotics systems and services to high-growth markets including medical, electronics, food and semiconductor; as well as to traditional industrial markets including machine tool automation and automotive components. More information is available at www.adept.com.
Featured Product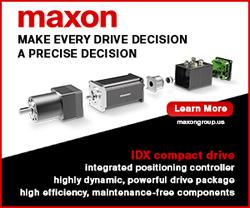 A brushless DC motor solution for use in hip and knee exoskeletons. This complete joint actuation unit consists of motor, gearhead, encoder and position controller. Fitting absolute encoder directly at the joint rotation provides designers increased positioning accuracy. The unit will deliver 54Nm of continuous torque and 120Nm on a 20% duty cycle. The system can be operated on supplies between 10 and 50V DC and the actuation speed is up to 22rpm.