Certifications recognize Boston Engineering's excellence in quality management of design and product development for medical, commercial, industrial and defense industries
WALTHAM, Mass., Dec. 3, 2013 -- Boston Engineering Corporation today announced it has been assessed and certified to meet the requirements of both the ISO 9001 and ISO 13485 standards. Certification assures the firm's quality management systems comply with requirements established by the International Organization for Standardization (ISO).

ISO certifications provide senior management with an efficient quality management process by establishing areas of responsibility across the organization. Dedicated implementation of this process communicates a positive message for staff and customers, saves time, reduces cost, and provides continuous assessment and improvement.
ISO 9001 establishes requirements for a comprehensive quality management system for product design and development consulting services for consumer, commercial, industrial, and defense markets, and for implementation support services for product lifecycle management systems.
ISO 13485 establishes requirements for a comprehensive quality management system for product design and development consulting services for the medical device market. ISO 13485 is based on the ISO 9001 format with additional requirements for design, special processes, environmental control, traceability, documentation records, and regulatory actions.
These certifications recognize an organization's excellence in quality performance related to customer focus, management, internal processes, and external relationships.
"Securing ISO Certification validates Boston Engineering's core design and innovation process, opens up significant market opportunities especially in the medical device development field, and establishes a foundation across the organization to support the company's expansion to all industries. I am extremely proud of our entire team. Our folks committed themselves to securing these certifications and worked tenaciously to achieve it," stated Bob Treiber, Boston Engineering's President.
Boston Engineering built its reputation on quality by adhering to solid best practices. "The certification process broadened this platform and enhanced our standard for quality achievement. Our certified quality system provides us with a springboard for the continued pursuit of deeper customer satisfaction," said Tom Bregani, the firm's Quality Director.
Established worldwide as an invaluable quality management system, these certifications help to improve an organization's management processes and allow it to compete locally and globally. As an ISO-certified consulting engineering firm, Boston Engineering provides excellence in quality management of product design and development services for the medical, commercial, industrial, and defense industries.
"Earning the International Standards Organization (ISO) 9001 and 13485 certifications for its quality management systems further galvanizes Boston Engineering's total commitment to quality performance, to advancing our clients' technologies, and to ensuring their ultimate satisfaction," commented Barbara Preisz, Director of Sales and Marketing.
About Boston Engineering Corporation
Boston Engineering Corporation, an engineering consultancy, designs and engineers new and next-generation product solutions for commercial and government entities. We offer multidisciplinary engineering teams to help guide clients from proof-of-concept through the product lifecycle. With expertise ranging from robotics to complex electromechanical systems and supply-chain development, we thrive on solving the most difficult challenges clients face every day.
Boston Engineering serves industries that include medical, industrial, defense and homeland security. Learn more at www.boston-engineering.com
Featured Product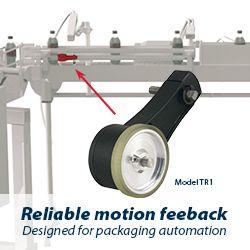 EPC is excited to announce our NEW online 3D Configurator. This new tool makes it even easier to configure EPC's products exactly how you need them for your application. The 3D Configurator interface is intuitive and works in any web browser for both desktop and mobile. It'll only take you a moment to learn your way around the program. Careful, though: it's so fun to play with, you may spend a whole afternoon on it!