Responding to customer needs for faster and more efficient automated pressroom stamping lines, DE-STA-CO introduces the Accelerate Collection of lightweight tooling. Accelerate is the world's lightest standard line of end effectors.
"Our customers told us that they need to increase their production speeds in order to stay competitive," explains Rob Pitera, DE-STA-CO global product director for end effectors. "But you can't just speed up a line that is equipped with traditional components, because the tools will bounce and put undue stress on the automation, leading to greater wear and tear and machine downtime. To meet our customers' productivity needs, we designed an all-new line of end effectors that are up to 50 percent lighter than their predecessors. The components' lighter weight translates into production line speed gains of 25 to 30 percent."

Since workers manually change tooling on many automated lines, Accelerate end effectors' lighter weight also improves ergonomics, resulting in higher worker safety ratings.
DE-STA-CO drew on its nearly 100 years of manufacturing experience to develop the Accelerate Collection. Product designers started with high-strength aircraft-grade aluminum in order to reduce clamping wall thickness and overall weight, without sacrificing strength. This approach also eliminated the need to use more expensive, longer-lead-time materials like carbon fiber, for a more cost-effective solution.
Accelerate components also have trimmer, more elegant shapes than their predecessors. Greater flexibility provided by CNC machines, tooling and fixtures let DE-STA-CO contour the components to eliminate unnecessary bulkiness and weight. Further weight savings come from specifying thin-wall extruded tube for Accelerate end effector frames instead of heavier solid bars or thicker wall tubing.
The Accelerate Collection is modular and completely customizable. Although its components are lighter than others, they are sized to global standards, making them compatible with existing equipment, regardless of brand.
"Manufacturers want standardized components that can be specified globally with fast delivery, regardless of location," Pitera says. "The DE-STA-CO global network offers local stocking and support throughout North America, South America, Europe and Asia. No matter where you're located, we can help Accelerate your business with the Accelerate Collection."
To learn more about the Accelerate Collection of lightweight tooling, go online to destaco.com or call (888) DESTACO (888-337-8226). DE-STA-CO is also active on Facebook, facebook.com/destaco and Twitter, @destacochat.
About DE-STA-CO
DE-STA-CO is a global automation and workholding company that has provided productivity solutions to the manufacturing industry since 1915. Quality, innovation and service have made DE-STA-CO a leader in the design and manufacture of cost-reducing, flexible automation solutions for industrial customers around the world. The company is committed to the Team DE-STA-CO philosophy, a progressive approach to doing business that focuses on providing consistent, standard-setting service and products to every customer, regardless of geographic location.
Featured Product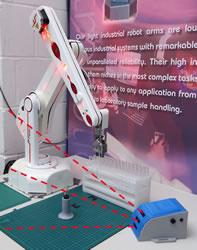 The 6-axis version of the R17HS high speed variant of the R17 robot is now available. As is our policy the 6th axis is an optional bolt-on module. At the same time we have made it even faster and new software eliminates shake and greatly improves repeatability as this video shows. Please see https://www.youtube.com/watch?v=3wG0MeiJ-yE. The video would seem to imply a repeatability of 0.01mm but we are sticking with 0.2mm in the spec. The motor specialist was able to tune the motors from the other side of the pond. My first reaction when we put power on and entered the first commands was to jump back in amazement (and maybe an expletive). Tip speed is now 3m/s; that's 3 times as fast as its nearest competitor yet costs half the price. I love it when a plan comes together.