Features Fusion of Robotics, Predictive Analytics and Collaborative Social Engagement
SUNNYVALE, Calif.--Knightscope, Inc. today unveiled the beta prototype of its K5 autonomous technology platform. The K5 is designed to predict and prevent crime through an innovative fusion of robotics, predictive analytics and collaborative social engagement. According to the Journal of Law and Economics, crime results in a negative U.S. economic impact of more than one trillion dollars annually. The K5 is a key component of Knightscope's vision to build safer, engaged communities, while reducing crime and associated costs.

"Population growth and constrained government budgets render today's methods of fighting crime unscalable," said Stacy Dean Stephens, vice president marketing and sales, Knightscope. "The Knightscope K5 utilizes technology to push alerts to public safety professionals and the community providing a profound new layer of security and more efficient deployment of resources, saving both money and lives."
The K5 collects significant amounts of data including what it sees, feels, hears and smells through its sensor array payload, which is then processed through a predictive analytics engine. The engine combines the machine data with existing raw business, government and crowdsourced social data sets, and subsequently assigns an alert level that determines when a business, community or authorities should be notified of a concern.
When an alert is pushed, the K5 will turn on all of its sensors to allow the entire community to review the information transparently and contribute additional relevant, real-time information. This approach alleviates privacy concerns, engages the community on a social level to effectively crowdsource security and provides an important feedback loop for the predictive analytics engine.
"Our long-term goal is to show that with a combination of hardware, software and community involvement we will, together, be able to cut crime by 50% in a geo-fenced area," said William Santana Li, chairman and chief executive officer, Knightscope. "As we publish results from successful deployments, every city across the planet will demand access to the technology over time giving Knightscope an opportunity to make a meaningful, lasting, positive impact on society."
Knightscope has identified key beta customers and will commence initial test deployments during 2014.
About Knightscope, Inc.
Knightscope's autonomous technology platform is a fusion of robotics, predictive analytics and collaborative social engagement utilized to predict and prevent crime. Deployment of the platform will allow the public and private sectors to proactively help build stronger communities while empowering them to be safer, integrating into their existing security infrastructure and ultimately saving money and lives. Learn more about how to predict and prevent crime now at www.knightscope.com.
Featured Product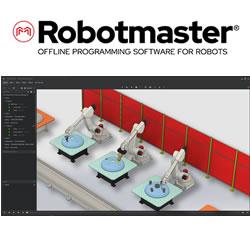 Since Robotmaster V7 uses integrated CAD/CAM functionality, for the first time, the power of Robotmaster can be used by welding, cutting and other process experts without buying or learning complex CAD/CAM software. As in past versions, Robotmaster V7 imports paths, but now makes it even easier for end users to leverage any CAD/CAM tool choice. It is an intuitive tool that anyone could use, with or without robotics expertise. It bridges the gap between robots and manufacturing by providing easy programming solutions for part manufacturing.