DiamondEnvy.com will add Diamond Envy Express 15 minute deliveries to New York City by unmanned aerial vehicles by the year 2015.
New York, NY December 09, 2013

Diamond Envy announces 15 minute deliveries anywhere within New York City by 2015. The New York based natural colored diamond website will be using unmanned aerial vehicles to pull off this feat. All five boroughs of New York City will be covered by this ambitious plan.
Unmanned aerial vehicles, more commonly referred to as drones, will be making all Diamond Envy Express deliveries. The drones are being trained now as part of a one year intensive program to make sure everything is ready for release when the FAA approves drones for flight in 2015. Check out footage of the Diamond Envy Express delivery drone in the latest Diamond Envy commercial.
"We were unhappy about that drone delivery announcement that was made last week being so close to ours--I think you know the one I'm talking about," says Diamond Envy's creative director and New York resident, Dina Silverberg, "but we are confident that our 15 minute delivery promise will blow any competition out of the water. Besides, anyone who's anyone lives in Manhattan-how could such a behemoth company neglect them?"
Diamond Envy's patent pending skyscraper navigation technology will allow the jewelry website to deliver packages right to anyone's doorstep, whether they live in a Park Slope brownstone or Park Avenue penthouse. A drone with the ability to navigate between and through tall buildings is something only Diamond Envy promises. This is very important to the company because "a New York without break-ups over forgotten birthdays and anniversaries is a New York every New Yorker wants to live in," according to Silverberg.
Drone delivery is no longer the stuff of science fiction. The world today exists with surgeries that are performed remotely, robots that vacuum the floors, and cars that drive themselves. Unmanned aerial vehicle deliveries is a very logical next step. Diamond Envy Express will deliver to all five boroughs excluding Staten Island.
About Diamond Envy
Diamond Envy is an e-commerce website for natural colored diamonds and natural colored diamond jewelry, specializing in yellow diamonds and pink diamonds. For 15 years the company's founders worked in New York's famed Diamond District as diamond wholesalers-sourcing rough diamonds from ethical, conflict-free suppliers, cutting and polishing them into their finished state, and selling them to the wholesale market. Diamond Envy prides itself on its friendly and easily accessible customer service. Think of the Diamond Envy team as the Web's jewelry concierge-available in whatever capacity is needed, whether as a design liaison, gemology educator, or a hand to hold through a first jewelry purchase. It's their job to be available throughout the buying process to ensure full customer satisfaction. Visit us online to see our entire natural colored diamond collection.
Featured Product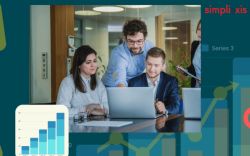 Honeywell Intelligrated has distribution and fulfillment expertise, system integration experience and innovative robotic controls foundation to relieve labor and productivity pressures in your distribution center.