FTR Systems, Inc., a technology company that creates innovative products using robotics, is pleased to announce the arrival of its new model of robotic golf caddy, the CaddyTrek Bigfoot. Golfers can control the golf caddy by remote control or through a "tracking mode" that allows the product to follow golfers across the green.
Las Vegas, NV December 16, 2013

FTR Systems Inc., a technology company specializing in electric-powered devices using robotic-sensing technology, announced the newest model of its CaddyTrek golf product this week. The CaddyTrek Bigfoot carries a golfer's bag and gear, while allowing the player to control the caddy hands free.
FTR Systems Director of Operations, Charlie Palmer , said the newest addition to its product line-up will offer a unique alternative to traditional pull carts. "These will allow golfers to walk and navigate the course with just a sensor attached to their belt-it's completely handsfree. Golfers will be able to rent the CaddyTrek Bigfoot at their local courses for a minimal cost." Palmer anticipates the product to be available in early 2014.
For golf course owners and managers, the Bigfoot offers less wear and tear on golf courses and faster play than drivable carts, while offering a durable and cost effective rental option for players.
FTR Systems saw initial success with its CaddyTrek CT2000BA Unit, a consumer product which uses much of the same technology as the new Bigfoot.
The CT2000BA caddy operates by remote or through the company's patented "follow-technology." The follow feature uses robotic sensors to track and keep pace with players across the green. Players can get up to 27 holes of play according to the company. The company is currently offering a drawing for a free unit to be given away in May, 2014.
The company sees health benefits in its robotic golf caddy product. Players can leave the burden of carrying their bag to the caddy, while enjoying the health benefits of walking the course over driving a cart. The company touts it as a great option for older players who love to walk and play.
FTR Systems first released the CaddyTrek in March of 2012. Since then, the company continues to see growing interest and sales in its CaddyTrek product. The company recently published some of the latest upgrades to the CaddyTrek product, including:
*Better tracking ability due to higher signal strength
*Multi-unit capability allowing two units to walk side by side
*Shorter bootup time for the OS
*Increased top speed
*Larger 5th Wheel for better stability
*Lighter and more compact
*Signal frequency hopping providing better interference resistance
*Lighter and more compact for easy storage
The company plans on showcasing the new Bigfoot model, as well as the CT2000BA at golf shows and related events throughout the U.S. and Europe in the coming year. You can see both products at the upcoming PGA Merchandise Show in Orlando, Florida this January. The product can also be viewed by visiting the company's website http://www.caddytrek.com.
About FTR Systems, Inc.
Headquartered in Las Vegas, Nevada, FTR Systems, Inc. is a well established technology company that designs, manufactures and distributes high quality and innovative electric mobile products.
Featured Product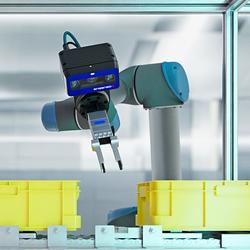 IDS NXT: a platform for a new generation of vision systems for industrial applications. It lays the groundwork to provide easy-to-use yet flexible complete systems that can be used to implement all steps of a vision solution. With IDS NXT ocean, a complete solution especially for AI-based image processing is now available. It allows to solve tasks where classic, rule-based image processing has reached its limits - without any programming effort.