According to Seegrid Guest Blogger, Thomas R. Cutler, manufacturing journalist, "Having solidified the new flexible AGV role in North America, Seegrid is quickly on pace to capture significant European marketshare.
The flexible AGVs are specifically designed automation solutions to address opportunities and challenges that exist in the materials handling industry through a straightforward modification of a standard manually driven industrial vehicle, transforming it into an unmanned vision-guided automated guided vehicle."

Automated Guided Vehicles (AGVs) have long been considered part of the efficiency solution throughout Europe; recently there is a closer examination about those efficiencies as many of the traditional AGVs took too long to justify the return on investment. Newer solutions and technologies are now part of the conversation in the material handling sector throughout the UK, Europe, and worldwide. Long arrived at the bottom-line by noting, "Relating to the AGV topic the cost of labour and the amount of labour needed is always a pain point. There is a thirst for newer easier technology that doesn't require the infrastructure costs." Long also suggested that traditional AGVs are very rigid and have limited flexibility.
Steve Long is Corporate Account Manager for Linde Material Handling UK and shared, "There is a trend to explore new technologies especially ones that improve efficiency." Long's responsibility is full management a large UK automotive company with a FLT fleet size of in excess of 1700 machines within the UK working 24 hour 7 days a week.
To read the entire blog, go to: http://blog.seegrid.com/Blog/bid/358572/Seegrid-Flexible-AGVs-Service-Eu....
Seegrid Linde and Europe 2014
Seegrid has partnered with the leading industrial truck OEM, Linde Material Handling, to provide Guided by Seegrid flexible automated guided vehicles (AGVs) to the materials handling industry in Europe. Guided by Seegrid flexible AGVs utilize vision-guided technology for navigation. The innovative technology allows vehicles to be trained and deployed in a warehouse or manufacturing facility quickly and efficiently, eliminating non-value-added repetitive tasks. The vision system provides operators complete route flexibility. AGV routing can be re-programmed in a matter of minutes supporting the up-to-date needs of every facility.
Unlike traditional AGVs, which require lasers, laser reflectors, wire guides, and magnetic tape, flexible Guided by Seegrid AGVs operate at a significantly lower cost per hour and can be maintained and serviced by in-house maintenance staff.
With rapidly rising labor and operating costs, Guided by Seegrid vehicles are used to decrease costs while improving operational productivity and efficiency. Vehicle operators use the AGVs in both automatic and manual modes. Flexible AGVs decrease employee injuries and product damage while increasing facility safety.
"The utilization of world-class robotic technology is gaining more importance among manufacturing and material handling leaders in Europe and worldwide," said Michael Hasco, Chief Growth Officer for Seegrid.
About Seegrid
Seegrid Corporation provides simple, affordable, flexible vision-guided automated guided vehicles (AGVs) to the material handling industry. Seegrid robotic industrial trucks, flexible AGVs, are revolutionizing the movement of materials in manufacturing and distribution environments. Seegrid automated pallet trucks and tow tractors optimize workflow processes by increasing productivity and reducing costs, creating economic and operational advantages. Robotic industrial trucks deliver a rapid return on investment, improve facility safety, and reduce equipment and product damage. Seegrid recently received the 2013 Manufacturer of the Year award by the Pittsburgh Business Times, as well as the Gold Medal Award at the WBT Innovation Marketplace 2013 competitive event. Fast Company magazine named Seegrid as one of the Top 50 World's Most Innovative Company in 2013 and among the Top 10 World's Most Innovative Robotics Company in 2013. Follow Seegrid Corporation on Twitter at @Seegrid.
http://www.seegrid.com/
Featured Product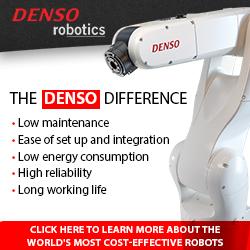 DENSO is the world's largest manufacturer - and user - of small assembly robots, employing over 17,000 of its robots in its own facilities. Over 77,000 additional DENSO robots are used by other companies worldwide. The compact, high-speed robots are used in traditional manufacturing sectors, as well as in advanced-technology applications in the medical, pharmaceutical and life sciences industries. Learn more about DENSO Robotics