The FL100 is comprised of software providers as well as equipment and technology companies whose products and services play a significant role in food and beverage supply chains.
PITTSBURGH, PA-Seegrid, maker of flexible Automated Guided Vehicles (AGVs) was recently honored to be listed as one of Food Logistics Top 100 Software and Technology Providers. Food Logistics, the only publication dedicated exclusively to the food and beverage supply chain, this week announced the tenth annual FL100 list, which will appear in the November/December 2013 issue.

John Hayes, Vice President Sales and Marketing, North America at Seegrid noted, "2013 has been a great year with a 350% increase in orders over last year. Our being listed as a top 100 software and technology provider by Food Logistics is a great honor. The Seegrid flexible AGV product line is an affordable solution that allows food and beverage companies to improve their sustainability, increase productivity, and improve the safety of their employees and work environment."
For the past decade, the editors of Food Logistics have identified software and technology providers that help food and beverage manufacturers, foodservice distributors, and grocery retailers attain their business goals. The FL100 is comprised of software providers as well as equipment and technology companies whose products and services play a significant role in food and beverage supply chains.
Lara L. Sowinski, Editor-in-Chief of Food Logistics, commented, "The groundswell of interest in software and technology tools affirms the value associated with investing in solutions that boost visibility in the food and beverage supply chain, enhance collaboration, improve regulatory compliance and support sustainability goals. New technology-related products and services combined with better affordability are leveling the playing field for a variety of food related companies, while supporting expansion of the cold chain into developed and emerging markets alike."
After receiving applications from end users and software and technology providers, the editorial staff reviewed over 155 submissions to compile this year's list. Companies who earned a spot on the FL100 list are featured in the November/December 2013 issue of Food Logistics, as well as online.
About Food Logistics
Food Logistics is published by Cygnus Business Media, a leading diversified business-to-business media company. The publication serves the information needs of executives involved in various aspects of the food and beverage supply chain. Through our print and online products, we provide news, trends, and best practices that help more than 24,000 grocery and foodservice suppliers, distributors, and retailers make better business decisions.
About Seegrid
Seegrid Corporation (www.seegrid.com) provides simple, affordable, flexible vision-guided automated guided vehicles (AGVs) to the material handling industry. Seegrid robotic industrial trucks, flexible AGVs, are revolutionizing the movement of materials in manufacturing and distribution environments. Seegrid automated pallet trucks and tow tractors optimize workflow processes by increasing productivity and reducing costs, creating economic and operational advantages. Robotic industrial trucks deliver a rapid return on investment, improve facility safety, and reduce equipment and product damage. Seegrid recently received the 2013 Manufacturer of the Year award by the Pittsburgh Business Times, as well as the Gold Medal Award at the WBT Innovation Marketplace 2013 competitive event. Fast Company magazine named Seegrid as one of the Top 50 World's Most Innovative Companies in 2013 and among the Top 10 World's Most Innovative Robotics Companies in 2013. Follow Seegrid Corporation on Twitter at @Seegrid.
Featured Product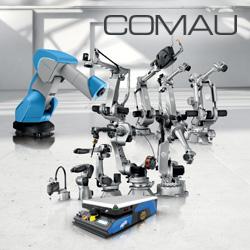 With more than40 different industrial robots with payloads ranging from 3 to 650 kg, Comauhas a robot to suit your company's automation needs.