The main benefit to customers is safe operation while using vacuum lifting devices.
Hingham, MA - Piab announces the introduction of piSECURE, a new decentralized vacuum ejector for sealed applications with high safety requirements in case of power or system failure. The safety function is based on a separate extra sealed vacuum non-return valve (check valve).

The main benefit to customers is safe operation while using vacuum lifting devices. In case of system or power failure, piSECURE will not drop the handled part thus reducing downtime and the cost of scrapping damaged expensive parts. Decentralization plays a role in the safety aspects of piSECURE as one suction cup failure doesn't affect the rest of the system. The non-return valve provides a very tight seal and has a very low leakage rate. The customer also has the possibility to monitor vacuum on individual cup-pump assemblies. A visual analogue gauge or conventional vacuum switch is recommended for every cup-pump assembly on an ergonomic manipulator.
Piab's energy-efficient COAX® technology provides a fast response and evacuation time to handle quick handling cycles. An optional ES (energy-saving) function gives the customer a possibility of reducing energy/air consumption by up to 99%. Reliability is gained through the use of an integrated vacuum filter to protect the unit from dust and particles.
Typical applications where piSECURE will fit are ergonomic lifting devices (manipulators) and overhead crane (traverse) systems for handling glass, metal sheets and other sealed sheets materials manually operated. piSECURE is a suitable product to use when the vacuum handling devices have to comply and fulfill legislated lifting norms for handling devices. Also, in robot handling applications of high value sealed objects, piSECURE can be used to eliminate the high cost for dropped parts in case of a power failure. Examples are shaped glass and metal sheets in body assembly and general assembly of cars.
About Piab
Established in 1951, Piab designs innovative vacuum solutions that improve the energy-efficiency, productivity, and working environments of vacuum users around the world. As a reliable partner to many of the world's largest manufacturers, Piab develops and manufactures a complete line of vacuum pumps, vacuum accessories, vacuum conveyors and suction cups for a variety of automated material handling and factory automation processes. Piab utilizes COAX®, a completely new dimension in vacuum technology, in many of its original products and solutions. COAX® cartridges are smaller, more energy efficient and more reliable than conventional ejectors, and can be integrated directly into machinery. This allows for the design of a flexible, modular vacuum system. Piab is a worldwide organization with subsidiaries and distributors in more than 50 countries. Its headquarters are in Sweden. For more information about Piab vacuum solutions for a diverse range of applications, visit www.piab.com.
Featured Product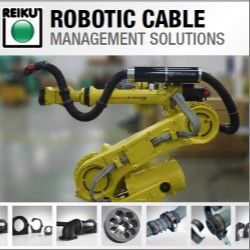 REIKU's Cable Saver™ Solution eliminates downtime, loss of revenue, expensive cable and hose replacement costs, maintenance labour costs. It's available in three sizes 36, 52 and 70 mm. All of the robots cables and hoses are protected when routed through the Cable Saver™ corrugated tubing. The Cable Saver™ uses a spring retraction system housed inside the Energy Tube™ to keep this service loop out of harms way in safe location at the rear of the Robot when not required. The Cable Saver™ is a COMPLETE solution for any make or model of robot. It installs quickly-on either side of the robot and has been tested to resist over 15 million repetitive cycles.