The DARPA ROBOTICS CHALLENGE is an initiative of the US Department of Defense to develop new technologies and make new robotic breakthroughs.
Robotiq is proud to announce that its 3-Finger Adaptive Robot Gripper will play a major role at the DARPA ROBOTICS CHALLENGE TRIALS on December 20-21 at the Homestead-Miami Speedway in Florida.

Indeed, 4 of the 17 teams that will take part in this challenge have chosen the 3-Finger Adaptive Robot Gripper for their design of a robot capable of assisting humans in responding to natural and man-made disaster, such as Fukushima.
The DARPA ROBOTICS CHALLENGE is an initiative of the US Department of Defense to develop new technologies and make new robotic breakthroughs. Through this challenge, teams have had to design robots that will conduct humanitarian, disaster relief and related operations.
"The 3-Finger Adaptive Robot Gripper has been designed to provide flexibility and robustness to automated industrial production processes," says Samuel Bouchard, President of Robotiq. "To be selected by well renowned research teams from around the world to face this great challenge shows the quality and flexibility of our products. All our company members are very proud of this."
Teams that have selected the 3-Finger Adaptive Robot Gripper from Robotiq are internationally renowned, among them are: Massachusetts Institute of Technology (MIT), the National Robotics Engineering Center of Carnegie Mellon University and Worcester Polytechnic Institute.
To see the robot designed by Worcester Polytechnic Institute also equipped with Robotiq's Adaptive Gripper, click here.
THE CHALLENGE
Through this challenge the robots will have to achieve various tasks such as:
*Drive a utility vehicle
*Travel dismounted through various terrains
*Remove debris blocking an entryway
*Open doors, enter buildings
*Climb a ship's ladder style stairs
*Break through a wall
*Locate and close a valve
*Connect fire hoses
The December TRIALS are the second stage of this competition. In these trials, the robots will have to face the difficult tasks listed above. DARPA also wants to establish a baseline for robotic capabilities with this competition. These trials will determine which teams will continue to the final stage of the competition that will take place in December 2014 with one of the final teams winning a two million dollar prize, as well as the prestige of winning the competition.
ABOUT ROBOTIQ
Robotiq makes tools for agile automation; flexible robot grippers to handle a wide variety of parts and a robotic teaching device that makes robot programming easier.
Our goal is to enable all manufacturers - especially those dealing with a high mix of products - to take full advantage of robotics.
Robotiq has sold product in more than 30 countries, through our global network of partners.
Featured Product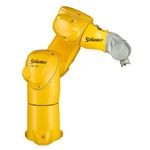 TX2 robots: redefining performance by offering collaborative safety and high performance in a single machine. These pioneering robots can be used in all areas, including sensitive and restrictive environments, thanks to their unique features. Safety functions are easy and inexpensive to implement. They allow a higher level of interactions between robots and human operators, while still guaranteeing protection of your people, production and investment.