Strong first-day test results and enthusiastic crowds offer encouraging look ahead for disaster-response robotics
"Ladies and gentlemen, start your robots!"

Those words echoed over Homestead-Miami Speedway as the sun rose over the DARPA Robotics Challenge (DRC) Trials, which commenced yesterday in Homestead, Fla. The two-day competition has drawn teams from around the world with a common goal: speeding development of robots that could aid in response efforts after future natural and man-made disasters. The opening of the event drew thousands of spectators eager to see the robots in action and witness a new day dawning for disaster-response robotics.
Speaking from Victory Lane next to the race track, DARPA Director Arati Prabhakar thanked the teams for their hard work, ingenuity and collaboration with the agency.
"We will show the world what's possible, what we need to work on, what it's really going to take for robots to step up when disaster strikes," Prabhakar said. "The teams here today will help people see a better future with robotic capabilities and not just see it, but help build it."
Gill Pratt, the DARPA program manager running the DRC, noted how Homestead is no stranger to the devastation from natural disasters and the need for help afterward. In 1992, Hurricane Andrew made landfall nearby, decimating Homestead Air Force Base, killing 65 people and causing more than $26 billion in damage overall.
A more recent catastrophe-the March 2011 Fukushima nuclear meltdown-inspired DARPA to create the DRC competition. If sufficiently advanced robots had been on hand at Fukushima, they might have performed actions similar to those the DRC Trials are testing and averted disaster. Those capabilities, however, are still beyond the current state of the art.
"The robots we see today are the robots of science fact, not science fiction," Pratt said. "They'll be slow, and they will often fail. But we hope today's modest progress will be a good next step to help save mankind from disasters."
Drawing historical parallels, Pratt noted that the DRC Trials started exactly 110 years and three days after the Wright brothers had their first successful flight. He observed that the Wrights' plane flew only 7 miles per hour for 12 seconds, covering only 120 feet-less than the wingspan of a 747 aircraft. Sixty-six years later, a Saturn V rocket initially developed by DARPA travelled 25,000 miles per hour as it carried the first manned mission to the moon.
The 16 teams participating in the DRC Trials represent a mix of government, academic and commercial backgrounds and incorporate a broad range of technical expertise. They hail from around the United States, as well as from South Korea and Japan. One team, Team Intelligent Pioneer from China, decided at the last minute not to attend. Because the team has designed and built its robot without DARPA funding, it may still participate in the DRC Finals scheduled for late 2014.
The event itself had the atmosphere of a sporting event. Crowds lined the balconies in the garage stands, watching the tasks in the pit lane on one side and the parking lot on the other. Loudspeakers broadcast live play-by-play and color commentary while two Jumbotron screens showed live footage, team rankings and video vignettes about the teams and the DRC program. The onsite DRC Exposition-a showcase of technology related to disaster response, robotics and autonomy-included, among others, demonstrations of DARPA's "Wild Cat" (an untethered, all-terrain version of the "Cheetah" robot) and Legged Squad Support System (LS3).
After the day's tests had concluded, Brad Tousley, director of the Tactical Technology Office that oversees DRC, noted that the DRC Trials had already distinguished itself from earlier DARPA challenges. "A lot of teams had a lot of points, which indicates a lot of progress," he said.
Tousley said he was pleased with the enthusiasm he saw among the teams and spectators, which included students from local schools. He noted how they all stood hushed as robots attempted each task and cheered when a robot did exceptionally well. He said that camaraderie was important for helping achieve a key goal of the DRC: building a community between technologists and first responders.
Other senior government officials at the DRC Trials also liked what they saw. "The efforts of the scientists, engineers and students in robotics give us a reality check into technology's art of the possible," said Jyuji Hewitt, deputy director of the U.S. Army Research, Development and Engineering Command. "DARPA's robotics competition provides an exciting and positive venue for teams from all over the world to demonstrate their efforts. I was impressed with the results and the event overall."
The DRC Trials will continue today. Based on all the teams' performance over the two days, up to eight teams with the highest scores may continue to receive DARPA funding to prepare for the DRC Finals.
More information is available at www.theroboticschallenge.org.
Featured Product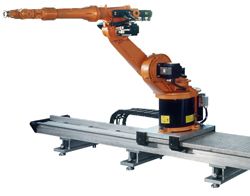 IPR Robotics offers a wide range of servo-driven 7th axis linear rails for industrial robots. These rails come in ten different sizes and are constructed from modular high strength extruded aluminum sections to handle payloads of 100 kg to 1600 kg or from steel to handle 2000 kg payloads. This variety of rail sizes allows each application to be sized correctly, controlling the space required and the price point. The drive train design of these rails utilizes helical gear-racks and is proven over 10 years to be repeatable and reliable, even in tough foundry applications.