Development of the robot is scheduled for completion by the mid-2014
VISTA, Calif. & NAUGHTON, Ontario--Flux Power® Holdings, Inc. (OTCQB:FLUX), an innovator in advanced lithium energy storage systems, announced an agreement with Penguin Automated Systems Inc. to deliver a lithium motive power solution for a large unmanned robot that Penguin is developing for underground mining and civil construction activities.

Flux will design and produce a 46-kilowatt, 48-volt lithium iron phosphate battery pack to power Penguin's three-ton robot that will be deployed for subterranean uses including mining and inspecting sewer systems. Development of the robot is scheduled for completion by the mid-2014, to be followed by initial testing with mining and civil construction customers based in South America.
Greg Baiden, Chairman and Chief Technology Officer of Penguin, stated, "We chose Flux for their technical expertise and responsiveness to our unique design needs for run time, charge time and hazardous environment requirements. Innovations in energy storage are allowing Penguin to bring to market new advanced telerobotics solutions for more demanding applications across multiple industries."
Chile's largest mining company, Codelco, is collaborating with Penguin in the development of robotics technologies for underground mining. Hector Cerda, Project Manager of Emerging Technologies and Codelco's leader in the joint project, commented, "the benefits of the Flux battery technology, in terms of size, capacity and safety, should enable better operating performance and acceptance by mine operations and unions."
Acting CEO, Ron Dutt, commented, "We are pleased that Penguin selected Flux to collaborate on such a groundbreaking project that demonstrates the scalability of our LiFT Pack storage solutions. Supporting advances in robotic technology is an exciting new avenue of opportunity for Flux and consistent with our core strengths in developing safe, reliable storage solutions across a range of performance characteristics and form factors."
About Penguin Automated Systems Inc. (www.penguinasi.com)
Penguin Automated Systems Inc. is a research, development and prototyping company focused on underground, underwater, in space and on surface applications. Penguin ASI a leading force in telerobotics with a comprehensive approach to software development, systems integration and field-testing to meet our clients' needs.
About Flux Power Holdings (www.fluxpwr.com)
Flux Power designs, develops, and markets advanced energy storage systems ("batteries") offering improved performance, extended cycle life and greater return on investment. Flux sells direct and through a growing base of distribution relationships. Products include batteries, packaged modules, advanced energy storage systems and components such as stand-alone battery management, stackable chargers, programming software and display systems. For more information visit www.FLUXpwr.com or email info@FLUXpwr.com.
Featured Product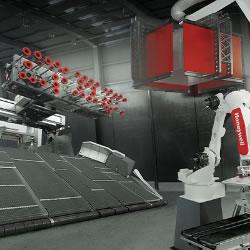 Challenges on the loading dock are characteristic of greater pressures from the rise of e-commerce. Loading and unloading freight from trailers, trucks and shipping containers are arduous, repetitive tasks plagued by high turnover. Even with regularly available staff, manually unloading freight and the constant lifting and twisting results in fatigue and inconsistent, declining productivity. Robotics capable of fully automating unloading tasks bring a new paradigm to the dock. High performance and flexibility push unloading from a labor-heavy, manual chore to an automated, refined process. High-performing DC workers can take more desirable positions, with relief from unpleasant work conditions. Management gets to replace uncertainty and staffing challenges with a reliable, automated process, with data to fuel continuous improvement.