A significant source of electrostatic discharge (ESD) failure in PCB manufacturing can arise from the application of masking tape to protect contacts during heating, flux, wave solder and wash cycles. Polyonics' new XT-658 high temperature, antistatic removable masking tape can be be die cut and auto applied, protects sensitive portions of PCBs from heat and chemicals, eliminates static charges and can be cleanly removed.
Westmoreland, NH December 26, 2013

Polyonics has introduced a new generation high temperature, removable antistatic masking tape. The Polyonics XT-658 is a 1 mil polyimide antistatic tape with an acrylic PSA and PET liner that is rated for 300C and, depending on the severity of the process, can be removed with little to no residue. The single coated tape helps protect heat and chemically sensitive portions of PCBs during the traditional wave flow and wash cycles and provides a low peel voltage (less than100v) that helps protect static sensitive devices from potentially harmful ESD events.
Masking tapes can generate significant charges (greater than 2500v) when their liners are removed prior to application. Once the tape is applied it will transfer these charges to the PCB and potentially damage static sensitive devices resident on the PCB. If not caught, these charges can damage assemblies that include the charged PCB or even effect the operation of final products.
The Polyonics XT-658 provides a low peel voltage (less than 100v) when its liner is removed to help protect static sensitive devices (SSD) from electrostatic charges. In addition, when the tape is removed after the manufacturing process, it further protects the board by again generating less than 100 volts. See the complete ESD story presented in the animation at right.
Electrostatic charges are generated when dissimilar materials come in contact with PCBs. This occurs primarily through tribocharging with the charges arising from human contact, contact with manufacturing equipment e.g. fixtures, slides, clamps, conveyors, robots, etc. or something as simple as applying masking tape.
Polyonics single coated antistatic tapes incorporate TriboGard™ technologies. These unique technologies include a variety of specially formulated conductive elements in a durable polymer matrix. The conductive elements create low peel voltages (less than 100v) when the liners are removed and again when the tape is removed.
The charge density chart (at right) illustrates that when electrostatic charges are deposited on conductive surfaces they discharge quickly, potentially damaging SSDs. When charges are deposited on insulative surfaces, they tend to stay indefinitely and thus can damage SSD further on in the manufacturing and assembly process. This is why it's critical to keep charges away from electrical devices to avoid the possibility of ESD events.
The Polyonics XT-658 tape helps protect heat sensitive devices up to 300C and has a dielectric strength of 7600 volts/mil that helps electrically isolate sensitive portions of the PCB. The tape has a proven resiliency to the typical chemicals used in PCB manufacturing and is available with a variety of liners for handling, die cutting and auto application.
Polyonics manufactures high performance, single and double coated tapes, films and flexible substrates used by specialty die-cut converters worldwide. The ultra-thin polyimide, PET and aluminum materials are designed expressly for high temperatures and harsh environments plus provide flame retardant and static dissipative performances for electronics, automobile, aerospace and medical components.
For further information or to receive samples for testing please contact Dave Genest at TapeExpert(at)polyonics(dot)com or 603.903.6327.
Featured Product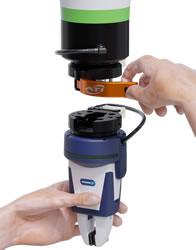 Simpler, stronger, and more precise. ATI Industrial Automation has developed a series of Manual Tool Changers that provides a cost-effective solution for quickly changing tools by hand. They feature a unique design that combines high strength, excellent repeatability, and a patent-pending screw-cam locking mechanism with multiple fail-safe features, which resists vibration and prevents loosening. These robust and compact Manual Tool Changers can handle payloads up to 80 pounds (36 kg) and pass pneumatics and electrical signals.