techJOYnT Academy is teaching a new after school robotics program at Oakdale Public Schools. This is be the debut of techJOYnT's new Mobile STEM Lab - a facility designed to make STEM Education a possibility for multiple school locations.
Oklahoma City, OK December 26, 2013

techJOYnT Academy is teaching an after school LEGO Robotics course at Oakdale Public Schools starting on January 13, 2014. This will be a debut of techJOYnT's new Mobile STEM Lab, designed for teaching Science, Technology, Engineering, and Math courses at various locations.
The after school program will be 8 weeks long and be held twice a week. 110 Oakdale students will have the opportunity to participate- 55 on Mondays and 55 on Thursdays. The Oklahoma Afterschool Network (OKAN) has agreed to monitor and gather data on the effectiveness and engagement of the students while participating with hands-on STEM learning activities. Once proven successful, techJOYnT plans on expanding their reach of the Mobile STEM Lab to other public and private schools.
techJOYnT will also be hosting a BotBall team for Oakdale Elementary. 2014 marks the first Elementary Botball Challenge. Normally, BotBall is only offered to middle school and high school students, but the Inaugural Elementary Botball Challenge will be held only in Oklahoma this year.
"...[Elementary BotBall Challenge] is designed to give students in kindergarten through 6th grade exposure to and experience with autonomous robots to reinforce science and math skills. Students participating in the Elementary BotBall Challenge will use these skills to build and program a robot to complete a series of pre-designed tasks on a small playing surface." written on BotBall.org/elementary-botball-challenge.
techJOYnT Academy encourages anyone who is interested in starting an after school program (for robotics or game design) to contact their founder, Ramier (Ray) Shaik, to schedule a time to visit during an Oakdale after school session. Please email all inquiries to ray(at)techjoynt(dot)com
About techJOYnT Academy
techJOYnT delivers curriculum to reinforce traditional science, technology, engineering and mathematics education. The organization offers families, students, and mentors the opportunity to learn engineering and entrepreneurship concepts through hands-on robotics and game design projects. Programs are offered at local libraries, community centers, public and private schools, and at techJOYnT Academy's location.
Featured Product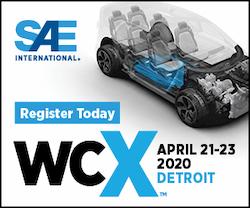 As the global leader in connecting and educating engineers, SAE International® brings you WCX 2020 World Congress Experience, the only place for the latest in consumer metrics, regulatory standards and technical sessions covering the entire vehicle, from bumper to bumper and beyond.