Seegrid, the leading manufacturer of flexible AGVs, also known as robotic industrial trucks, will be officially launching its newest product at MODEX 2014 at booth #7317 in Atlanta, GA. The GWS35 is equipped with Seegrid's patented vision-guided autonomous navigation system and automatically transports palletized loads through manufacturing and distribution environments.
The pre-launch allows prospective customers to learn more about this newest product in Seegrid's suite of automation solutions; it is part of the company's commitment to make affordable automation available to everyone.

The revolutionary flexible GWS35 walkie stacker automatically picks, drops, stacks, and puts away loads up to 72 inches at a maximum load capacity of 3,500 pounds. The automated walkie stacker is used for automatic lane building or deep lane storage at dock and staging locations. The GWS35 is state-of-the-art yet simple to use. It does not require any additional infrastructure, costly expansion or redesign of a facility, or a specialized team of engineers to install, support, or operate the flexible vision-guided GWS35.
The vehicle offers fast and effective deployment within hours instead of weeks, has the ability to change routes quickly and easily, operates safely with workers and equipment, and provides the most operational flexibility for the automation of internal material flow in distribution and manufacturing facilities. The GWS35 rapidly reduces labor and operating costs while creating a lean, productive, and efficient operation.
John Hayes, Seegrid VP of Sales and Marketing, North America, states, "With the flexible GWS35 walkie stacker, we have expanded our traditional horizontal transportation line by adding a vehicle that allows for nearly all traditional AGV applications to be both simple and affordable. The flexible GWS35 addresses the market needs of an automated guided vehicle solution at a fraction of the cost."
Seegrid is proud to introduce the GWS35 at MODEX 2014. The flexible vision-guided GWS35 provides cost-effective initial investment and low total cost of ownership, while delivering affordable transport with a rapid payback.
About Seegrid
Seegrid Corporation provides simple, affordable, flexible vision-guided automated guided vehicles (AGVs) to the material handling industry. Seegrid robotic industrial trucks, flexible AGVs, are revolutionizing the movement of materials in manufacturing and distribution environments. Seegrid automated pallet trucks and tow tractors optimize workflow processes by increasing productivity and reducing costs, creating economic and operational advantages. Robotic industrial trucks deliver a rapid return on investment, improve facility safety, and reduce equipment and product damage. Seegrid recently received the 2013 Manufacturer of the Year award by the Pittsburgh Business Times, as well as the Gold Medal Award at the WBT Innovation Marketplace 2013 competitive event. Fast Company magazine named Seegrid as one of the Top 50 World's Most Innovative Company in 2013 and among the Top 10 World's Most Innovative Robotics Company in 2013. Follow Seegrid Corporation on Twitter at @Seegrid.
http://www.seegrid.com
Featured Product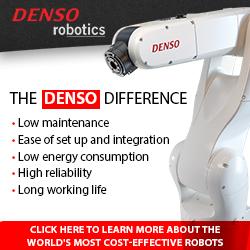 DENSO is the world's largest manufacturer - and user - of small assembly robots, employing over 17,000 of its robots in its own facilities. Over 77,000 additional DENSO robots are used by other companies worldwide. The compact, high-speed robots are used in traditional manufacturing sectors, as well as in advanced-technology applications in the medical, pharmaceutical and life sciences industries. Learn more about DENSO Robotics