This collaboration will create a seamless connection between Harvest Knowledge and SBI Grower.
January 6, 2014 - Billerica, MA and Portland, OR - Harvest Automation Inc. a global leader and innovator in mobile autonomous robots for agriculture and SBI Software the premier provider of ERP systems to the Nursery and Greenhouse industry announce the formation of a partnership to connect Harvest Knowledge robot data systems with the SBI Grower ERP package to develop integrated production optimization tools.

In 2013 Harvest Automation introduced the revolutionary HV-100 plant moving robots designed to perform a wide variety of the most demanding and critical plant handling tasks such as Spacing, Consolidation, and Collection. The robots require minimal training to operate, while reducing production costs and improving productivity. They are flexible to deploy in a wide range of bed and plant configurations on all common ground surfaces. The robots provide consistent spacing accuracy no matter how long the day is, without breaks, allowing growers to get quality work done whenever they need it.
In 2014 Harvest Automation will launch Harvest Knowledge, a cloud based data collection system which will allow robots to link the work that is being performed to the fields and plants that they are working with and to report this information back to growers and production planners to provide a comprehensive view of the work robots have completed.
SBI Software's comprehensive ERP system is designed specifically for the Horticulture Industry extending critical point of task functionalities from their robust back office program to your desktops, phones and tablets with their "Any Device Application Suite." Their continual determination to keep grower's operational processes simple and efficient paired with a keen knowledge of emerging technologies has helped guide industry specific software innovations.
Come 2014, SBI will be working with Harvest Automation and their cloud-based informational capturing robots to help automatically drive reported inventory and production tasks from the robots to SBI. This process will allow growers and production planners to dramatically reduce human errors and time spent manually adjusting inventory in the field and their inventory management software.
This collaboration will create a seamless connection between Harvest Knowledge and SBI Grower. By linking these two systems Nursery and Greenhouse growers and production managers will have an unprecedented ability to plan work on their operation, getting the right work done, on-time, reducing re-work, eliminating waste, and increasing profit margins. "This partnership marks an historic convergence of mobile autonomous robots and big data for the agriculture industry," said John Kawola, Harvest Automation CEO. "We're delighted be working with SBI Software to bring these capabilities to our customers."
About Harvest Automation
Harvest Automation is the global leader in mobile autonomous robots for agriculture. Headquartered in Billerica MA, and founded in 2008 by a seasoned technology executive and a trio of robotics experts. The Company now comprises a diverse, committed team with expertise in sales and marketing, engineering (software, hardware, electrical, mechanical), project management, and business operations. For more information please visit www.harvestai.com.
About SBI Software
SBI was started by Aaron Allison and Tim Morita in 2000 after Aaron owned and operated his own nursery in New Jersey for 6 years. Since then, SBI has grown to serve over 275 growers and garden centers in the United States, Canada and the UK. Still a debt-free partnership, SBI is able to stay agile and focused on customer service and quality software.
Fully committed to the green industry, SBI software is developed specifically for your process. We offer the most comprehensive package on the market and continue to expand and improve our offerings every day. For more information please visit www.sbiteam.com .
Featured Product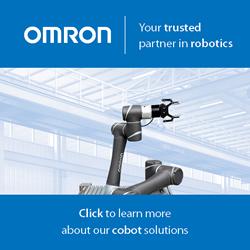 Humans and robots can now share tasks - and this new partnership is on the verge of revolutionizing the production line. Today's drivers like data-driven services, decreasing product lifetimes and the need for product differentiation are putting flexibility paramount, and no technology is better suited to meet these needs than the Omron TM Series Collaborative Robot. With force feedback, collision detection technology and an intuitive, hand-guided teaching mechanism, the TM Series cobot is designed to work in immediate proximity to a human worker and is easier than ever to train on new tasks.