KEECKER, a Paris-based company dedicated to making your life better through innovative technologies will unveil its new smart, connected robot at CES 2014 in Las Vegas this week.
Providing unique functionality that will change the way we think about digital experiences, KEECKER is the first connected computer for lifestyle and entertainment that will transform how we share and experience rich content at home.

Equipped with a powerful video projection and 360 degree audio and video capture system, KEECKER allows you to project movies, listen to music, browse the web, make video calls, play video games and even transform your home, all through your smartphone.
"Creating a new dimension between technology, entertainment and our imagination, KEECKER merges the physical and digital worlds for the first time," said Pierre Lebeau, CEO and founder of KEECKER.
Truly wirefree and mobile, KEECKER rolls alongside you using its advanced motorized wheels. Moving beyond entertainment as we know it, KEECKER transforms any room into an entertainment arena and any surface into an immersive screen. Freed from its "container", content can be projected anywhere, whether its traditional entertainment, video, photos, interior decoration or beyond.
While many devices such as computers and smartphones are solely for personal use, KEECKER enables you to share experiences at home, bringing you and your family closer together.
Using KEECKER, you can turn your home into your imagination. Interested in taking a dive into the Milky Way or bringing your children under the sea in the comfort of your own home? Want to draw monumental artwork on your walls or create pop up interior design just for a night? Whether you want to walk through your house Skyping with a friend in Tokyo, wake up to a view of Tuscany on your bedroom wall or countless other dynamic scenarios, KEECKER can create that experience for you.
KEECKER can also be used to check home analytics (temperature, humidity, sound level, light level, CO2 level and more) and for security purposes, so you can check on your home remotely from the road.
From entertainment, games, web apps and home security to interior design creation, image and sound immersion, KEECKER can transform any room using your imagination. KEECKER makes the nightmare experience of connecting home systems to game consoles, ISP boxes and mobile devices as well as the unsightly cables and wires in every corner of the house a thing of the past.
Source: http://www.keecker.com/
Featured Product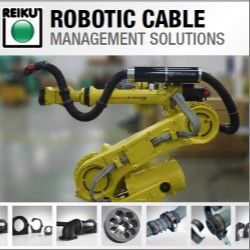 REIKU's Cable Saver™ Solution eliminates downtime, loss of revenue, expensive cable and hose replacement costs, maintenance labour costs. It's available in three sizes 36, 52 and 70 mm. All of the robots cables and hoses are protected when routed through the Cable Saver™ corrugated tubing. The Cable Saver™ uses a spring retraction system housed inside the Energy Tube™ to keep this service loop out of harms way in safe location at the rear of the Robot when not required. The Cable Saver™ is a COMPLETE solution for any make or model of robot. It installs quickly-on either side of the robot and has been tested to resist over 15 million repetitive cycles.