Meet MiP! the latest innovation by WowWee. Control MiP with hand gestures or drive it around using a smart device. Play games, teach MiP to dance and more, all while MiP balances on two wheels! Available May 2014.
LAS VEGAS, Jan. 6, 2014 -- Beginning Tuesday, January 7th - 10th at CES 2014…Meet MiP! Short for Mobile Inverted Pendulum, MiP is the latest innovation by WowWee, and the first in association with the Coordinated Robotics Lab at the University of California, San Diego. With its unique dual-wheel balancing, MiP is a fully interactive robot friend able to navigate its surroundings while controlled by hand movements using GestureSense™ technology. Or, control MiP using a Bluetooth link to any smart device running MiP's free app. MiP has an inquisitive and responsive personality that is communicated through motion, sound, and its LED "eyes"… You can drive MiP, play games, or teach MiP to dance! Attach its tray accessory, and MiP can balance multiple objects while moving or standing still, including another MiP!

"WowWee's approach to Robotics is really reaching beyond the toy industry and towards a broader audience," said WowWee Canada president Richard Yanofsky. "Our goal is to deliver original and relevant product and we feel we have delivered in 2014 with MiP."
WowWee USA president Peter Yanofsky added, "The partnership between WowWee and UC San Diego is going to yield some amazing and dynamic product in the years to come. We are very excited to be on the cutting edge of this ideation and execution, beginning with the amazing MiP!"
Professor Thomas Bewley, director of the Coordinated Robotics Lab at UC San Diego, remarked, "The balanced partnership between our innovative academic team at UCSD and the creative product development team at WowWee is fun, synergetic, and unstoppable!"
MiP is making its CES debut at the Venetian ballroom booth #71115 and Las Vegas Convention Center (LVCC) booth #6323. MiP is a Top 10 Finalist at Last Gadget Standing on Thursday, January 9th at LVCC, produced by Living in Digital Times, and will be featured at Showstoppers® at the Wynn hotel on Tuesday evening, January 7th.
MiP will be available only at Best Buy beginning May 2014. MSRP $99.99 8+
For more information visit: wowwee.com/mip #meetMiP
About WowWee
Founded in 1988, WowWee is a leading designer, developer, marketer and distributor of innovative hi-tech consumer robotic and consumer entertainment products. The introduction of WowWee's Robosapien™ robot in 2004 revolutionized the way people interact with robotic companions. One of the most popular entertainment robots in the world with global sales of more than 6 million units, the Robosapien robot was the first commercially available biomorphic robot - a fusion of technology and personality. The Robosapien humanoid product line evolved to include Robosapien V2 robot, which added functionality like speech capability, and RS Media™ robot, which featured a complete multimedia experience that allowed users to create and edit functions. More recently, the next generation of personality-packed companions- including RS Tri-Bot™ and RoboMe™ have been released and provided endless entertainment with different play modes.
With main offices in Montreal, San Diego, Hong Kong, WowWee's focus on the development of breakthrough consumer technologies continues to forge new categories in personal robotics and entertainment with its imaginative, innovative, award-winning gadgets and toys. Please visit wowwee.com
About the Coordinated Robotics Lab at UC San Diego
The UCSD Coordinated Robotics Lab focuses on the dynamics and control of small mobile robotic systems leveraging clever use of low-cost actuators and cutting-edge cellphone-class technology. The Lab, which has several patents pending on various innovative designs, is a highly interdisciplinary group within UC San Diego's Jacobs School of Engineering, a premier research organization dedicated to educating tomorrow's technology leaders and conducting leading edge research that drives innovation for the benefit of society. The Jacobs School is the largest engineering school in the renowned University of California system, with more than 8,100 graduate and undergraduate students and 202 faculty members. Located at the hub of San Diego's thriving information technology, communications, defense, biotechnology, and clean technology sectors, the Jacobs School proactively seeks corporate partners to collaborate in research, education and innovation.
Featured Product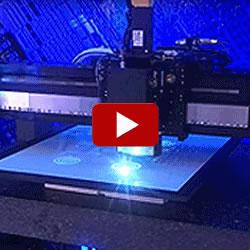 Hexapod micro-motion robots are based on very flexible concept that can easily solve complex motion and alignment problems in fields including Optics, Photonics, Precision Automation, Automotive, and Medical Engineering.