Aethon TUG autonomous mobile robot automates delivery and material movement in hospitals.
PITTSBURGH--Aethon grew its customer base in 2013 with 21 sites going live on their Intralogistics™ platform which automates and manages the internal supply chain logistics of hospitals. The continued growth in the adoption of Aethon's robotic technology has clearly made the company a market leader in robotics. Aethon is the maker of the TUG® autonomous mobile robot which transports and delivers materials through hospitals. The platform also includes MedEx™, the software system used by hospital pharmacies to track and control medication deliveries to ensure chain-of-custody and secure delivery.

"Robots are becoming more common in our workplaces," comments Aldo Zini, CEO of Aethon. "With healthcare organizations required to serve an increasingly aging population yet respond to the pressure on costs they need to do more with their current staff. This means each person must spend more time doing the highest-value aspects of their job. For example, mid-level clinicians will need to spend more time performing clinical duties rather than logistical tasks. To illustrate, a recent Harvard Business School study of nursing workflow indicated that nearly 50% of operational breakdowns are a result of supply problems and inefficiently designed processes."
Aethon has grown significantly since their introduction of its smart autonomous mobile TUG® robots into the commercial market in 2004. TUGs make more than 50,000 deliveries per week as they transport medications, meals, linen, equipment and supplies more safely, securely and promptly, allowing employees to focus on higher-value activities. Aethon anticipates significant growth with major projects already underway for 2014.
About Aethon
Aethon automates Intralogistics™ in hospitals by delivering goods and supplies using its TUG® smart autonomous mobile robot and tracks deliveries in real time using MedEx™, a software system used to track medication deliveries from the pharmacy. Over 400 TUG autonomous mobile robots are making more than 50,000 deliveries each week in hospitals across the United States. For more information, visit www.aethon.com.
Featured Product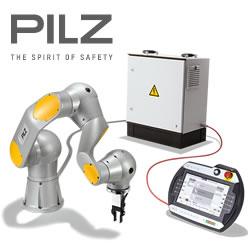 Our service robotics modules give you an easy start in robotics. Assemble your individual robot application - exactly according to your requirements: Service robotics modules consists of the manipulator module PRBT, the control module PRCM, the operating module PRTM and ROS modules. Our collision measurement set PRMS for human-robot collaboration (HRC) supports you reliably on your path to a safe application. Application areas of the service robotics modules can be found in service robotics and industrial environments. Benefit from our cost-efficient, flexible solution!