US North American Operations
ANN ARBOR, MICHIGAN Güdel, Inc., a Swiss-based, manufacturer of linear motion for factory automation announced a new Platinum level membership to the Robotic Industries Association.

"We have been a member for years and have appreciated the association's leadership in building the industrial robotics industry at every level," said Joe Campbell, Vice President of Sales and Marketing for Güdel.
"From education to promotion, standards to networking, RIA has been a key part of our success. As we take Güdel to the next level, it was only natural that we expand our participation and role in the single trade association that leads our industry - the Robotic Industries Association."
Jeff Burnstein, president of Robotic Industries Association (RIA) said, "Güdel has been a great partner. Güdel involvement and future commitment to RIA is a tremendous asset for us. Platinum-level sponsorships help our organization's continue our commitment to enrich our members and industry partners."
Güdel joins a list of other distinguished suppliers supporting RIA at a Platinum- level including ABB, ATI, FANUC, KUKA, Kawasaki, Staubli, and Yaskawa Motoman.
About Robotic Industries Association (RIA)
Founded in 1974, RIA now represents over 300 robot manufacturers, system integrators, component suppliers, end user, consulting firms, research groups, and educational institutions. RIA is best known for its biennial Automate Show & Conference (next event slated for March 23-26, 2015 in Chicago); the ANSI/RIA National Robot Safety Standard and National Robot Safety Conference (held annually each fall), and the annual Robotics Industry Forum (January 22-24, 2014, Orlando). The association also provides quarterly robotics statistics and has a content-rich Robotics Online website attracting hundreds of thousands of global visitors a year. For more details on RIA, visit www.robotics.org or call 734/994-6088.
About Güdel, Inc.
Güdel is a global leader in linear motion for factory automation, and Güdel Inc. is the wholly owned subsidiary serving North America. Güdel produces high-reliability, high-performance gantry robots, track motion units and components (racks, rails, gearboxes and drives) for its diverse market segments. Güdel customers are integrators, line builders and OEM manufacturers who serve the automotive, aerospace, fabricated metals, power generation and heavy industrial segments. In addition, Güdel provides automation solutions for specific market applications such as powertrain, tire and press automation. Güdel Inc.'s 45,000 square foot U.S. manufacturing operations are located in Ann Arbor, Michigan. There it provides its US and Canadian customer's full engineering, manufacturing and customer care support. Güdel was founded in 1954, and is privately-held. Güdel operates in 21 locations worldwide. Güdel, Inc. is a Platinum member of the Robotics Industries Association. For more information contact Janice Milhem Janice.milhem@us.gudel.com at GUDEL, Inc. 4881 Runway Boulevard, Ann Arbor, MI 4808-9558 or visit our website at www.gudel.com
Featured Product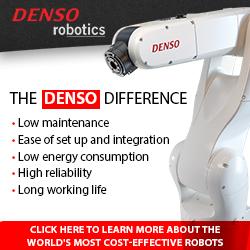 DENSO is the world's largest manufacturer - and user - of small assembly robots, employing over 17,000 of its robots in its own facilities. Over 77,000 additional DENSO robots are used by other companies worldwide. The compact, high-speed robots are used in traditional manufacturing sectors, as well as in advanced-technology applications in the medical, pharmaceutical and life sciences industries. Learn more about DENSO Robotics