Sixclear, an Austin-based technology company, increases free access to LabVIEW learning resources for FRC participants and mentors.
Austin, TX January 15, 2014

Sixclear, an Austin-based technology company, increases free access to LabVIEW learning resources for FRC participants and mentors.
For 22 years, the FIRST Robotics Competition has been an effective tool in getting middle and high school students worldwide interested in science, technology, engineering, and math (STEM) studies. Students, aided by mentors in their schools or communities, form teams to design and build robots to compete in international events. The necessary resources those teams require have always been provided by interested technology companies like Sixclear.
Sixclear's Lucid LabVIEW Fundamentals Training prepares users with little or no LabVIEW experience to design and program complete applications, including those running on a FIRST robot.
"There are plenty of options to program the FIRST robots. LabVIEW is a leading choice for that software, and we're proud to offer LabVIEW training free of charge to these budding engineers and scientists," explains Jassem Shahrani, Sixclear President.
Sixclear first began offering its LabVIEW course to FIRST competitors in December of 2012, and distributed free training to hundreds of students and mentors throughout that season.
"We received a bunch of really pleasant notes from participants in the program, explaining how they went from no knowledge of programming, to building the code that eventually ran on their competing robot. That made us smile," adds Shahrani.
The current season sees a rollout of a new website for easier access to Sixclear's LabVIEW training: sixclear.com/frc.
"Students and mentors can visit us there and get immediate access to the training," continues Shahrani, explaining that with a new online vetting process, participants no longer need to wait to be given manual access.
"Sign up and you can be learning LabVIEW for free within minutes," concludes Shahrani.
About Sixclear
Founded in Austin, Texas in early 2008, Sixclear is a development and integration company offering LabVIEW courses, development, integration, and consulting in the automation, test, measurement, and data acquisition space. Besides offering the only fully self-paced, e-learning online LabVIEW training in the world, Sixclear offers a customizable LabVIEW course presented live in the classroom.
Featured Product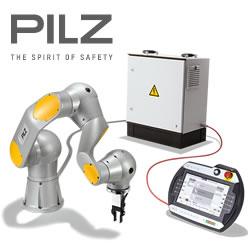 Our service robotics modules give you an easy start in robotics. Assemble your individual robot application - exactly according to your requirements: Service robotics modules consists of the manipulator module PRBT, the control module PRCM, the operating module PRTM and ROS modules. Our collision measurement set PRMS for human-robot collaboration (HRC) supports you reliably on your path to a safe application. Application areas of the service robotics modules can be found in service robotics and industrial environments. Benefit from our cost-efficient, flexible solution!