New to the school this year is a course on the Company's cutting edge 3D printing capabilities.
LONGMONT, Colo., Jan. 17, 2014 -- ARC Group Worldwide, Inc. (NASDAQ: ARCW; the "Company" or "ARC") announced today that Advanced Forming Technology, Inc. ("AFT"), a division of the Company's Precision Components Group, has set the schedule for its quarterly Metal Injection Molding ("MIM") School Seminars, taught at the Longmont, Colorado facility.

The MIM School started in 2005, and is a two day training seminar for new & existing customers, vendors and shareholders, wishing to learn more about the MIM process. Since the start of the school, AFT has trained over 250 students on MIM technology. The seminar walks students through the technical aspects of MIM, from the materials technology of metal powders, to the compounding and secondary processes, through the use of both classroom and hands-on training on the manufacturing floor.
New to the school this year is a course on the Company's cutting edge 3D printing capabilities. Through the launch of ARC's new division, 3D Material Technologies ("3DMT"), ARC has been building up capital equipment of the newest models of metal and plastic 3D printers. 3DMT is housing its 3D printers in Colorado, as well as ARC's other facilities. The new 3D course will allow students the unique opportunity to get hands-on experience with a number of new 3D printing technologies, including our metal printers, some of which are among a small handful of 3D metal printing machines available for use in the United States today.
The 2014 classes are free to attend for registered applicants only, and will be held on the following dates:
February 19-20
May 21-22
August 20-21
November 12-13
If you are interested in registering, please send an email to mimschool@arcmim.com with a background on yourself, your company, nature of relationship with ARC, and which dates you would like to attend. Spaces are only for qualified attendees and are limited, so they will be allocated based on the order received.
About ARC Group Worldwide, Inc.
ARC Group Worldwide is a diversified, global advanced manufacturing company, as well as a world leader in MIM. ARC was founded in 1987 and has a long history as a technology innovator in manufacturing. ARC has significant expertise in lean manufacturing and utilizes cutting edge technology including robotics, automation, and 3D printing. ARC's mission is to bring innovation and technology to manufacturing. ARC's core manufacturing businesses are in precision components, 3D printing, flanges, fittings, and wireless technology, through its operating subsidiaries, www.FloMet.com, www.AFTmim.com, www.AFTmimHU.com, www.Injectamax.com, www.ARCmim.com www.TeknaSeal.com, www.3DMaterialTechnologies.com, www.GeneralFlange.com and www.ArcWireless.net. For more information about ARC Group Worldwide, please visit www.ArcGroupWorldwide.com.
Featured Product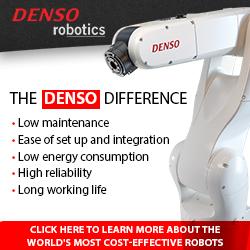 DENSO is the world's largest manufacturer - and user - of small assembly robots, employing over 17,000 of its robots in its own facilities. Over 77,000 additional DENSO robots are used by other companies worldwide. The compact, high-speed robots are used in traditional manufacturing sectors, as well as in advanced-technology applications in the medical, pharmaceutical and life sciences industries. Learn more about DENSO Robotics