Linear robotics manufacturer Macron Dynamics has hired industrial automation industry expert Michael Giunta as their National Sales Manager to develop and organize Macron's technical sales team.
Croydon, Pa. January 24, 2014

Macron Dynamics, Inc., a manufacturer of linear robotic motion systems and belt driven linear actuators, has announced today that Michael Giunta has been hired as the company's National Sales Manager. The new National Sales Manager is responsible for leading the sales team and developing new sales tactics at Macron Dynamics.
"Michael's experience in the automation industry makes him an excellent addition to our sales team," said Anthony Cirone, President at Macron Dynamics. "His strong background in mechanical engineering provides him with a skillset to think out of the box and solve our customers' unique automation challenges."
Michael joins Macron Dynamics after working many years for Exlar Corporation and Stober Drives, Inc. as a regional sales manager. Equipped with 15 years of experience in automation sales, Macron Dynamics has hired him to help develop and organize their current sales team and expand their sales tactics. Michael is an expert in the process controls and industrial automation industry, and is skilled in military and defense automation applications.
Michael earned a Bachelor of Science degree in mechanical engineering from Roger Williams University. His formal training in mechanical components and engineering provides him with strong understanding of automation challenges and experience in motion projects. Michael is knowledgeable in drives, actuators and other automation components from his previous sales experience at various automation companies.
For additional information regarding Macron Dynamics news or products, please visit http://www.macrondynamics.com/ or call 1-800-MACRON-1 (1-800-622-7661).
About Macron Dynamics
Macron Dynamics is a manufacturer of linear robotics solutions and mechanical motion components found in automation systems through the U.S. and around the world. For more than 25, Macron has refined each component and every product through time-tested installations and experience. Macron products are built with the highest quality materials, assembled in the USA, and engineered to withstand the abuses of rigorous, daily usage. Macron specializes in delivering automation solutions including single-axis, long travel, gantries and multi-axis linear robotics systems for a wide range of industries. Macron's unique product designs consist of both standard and configurable models that can be quickly modified to meet most robotics and automation application.
Featured Product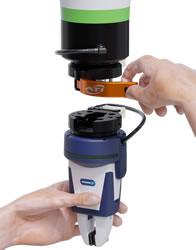 Simpler, stronger, and more precise. ATI Industrial Automation has developed a series of Manual Tool Changers that provides a cost-effective solution for quickly changing tools by hand. They feature a unique design that combines high strength, excellent repeatability, and a patent-pending screw-cam locking mechanism with multiple fail-safe features, which resists vibration and prevents loosening. These robust and compact Manual Tool Changers can handle payloads up to 80 pounds (36 kg) and pass pneumatics and electrical signals.