Kyntrol's new NexEra Actuators incorporate a combination of our innovative, patented electric motor driven pump and valve circuitry, modular manifold and cylinder, and optional integrated electronics to offer a wide range of actuator sizes to best fit your application.
Cleveland, Ohio January 23, 2014

Kyntrol, a leader in actuators and premium seat actuation control systems, has launched two new product lines of industrial actuators and actuation systems, called The NexEra.
The NexEra product line consists of two series of products, the NexAct and the NexSmart. Both products provide the unique ability to move large loads in a very small space envelope in contrast with comparable electro-mechanical and pneumatic actuators. This is possible through the incorporation of Electro-Hydraulic actuation technology in a self-contained system that does not require external hydraulic connections.
A key technology inside the NexEra product is an ultra-efficient, miniature hydraulic pump driven by either a servo motor or other motor technology depending on the level of precision control required by the application.
According to Lori Feldman, the company's Director of Sales and Marketing, "NexEra actuators and actuation systems offer an excellent alternative to most existing electro-mechanical, pneumatic and hydraulic actuators."
NexEra actuators are easily installed as drop-in replacements on existing applications, or can be uniquely configured for OEM requirements to provide a distinctive competitive advantage for their end product.
The NexAct series is a cost effective solution that eliminates the need for a compressed air supply or hydraulic hoses, requiring only a simple power connection and external control signals.
Typical applications include:
*Valve Positioning
*Military Vehicles
*Process and HVAC Control
*Industrial Automation
*Aerospace
*Medical Equipment / Patient Lifts
*Material Handling
*Autonomous Vehicles
*Food processing
*Mobile Equipment
The NexSmart series builds on the NexAct by incorporating Kyntrol's patented C-bus technology, "smart" servo control electronics and built-in software for a complete solution.
NexEra actuators merge the advantages of Hydraulic and Electro-Mechanical actuator technologies - high force in a small space, coupled with cost-effective precision control. All NexEra products are energy efficient, quiet and clean.
Kyntrol offers NexEra actuators with customized mechanical designs and in multi-axis configurations where coordinated motion of multiple actuators is required.
About Kyntrol
Kyntrol was established in 2010. The Kyntrol team has over 250 years of Motion Control experience in the fields of Medical, Aerospace and Industrial markets throughout the world.
The name Kyntrol is derived from the words "KINETICS" and "CONTROL."
The company's mission is to help customers solve motion control problems more effectively using proven technologies in innovative ways.
Kyntrol provides drop in replacement actuators, custom engineered products and full systems, along with new application help and services.
For more information, contact Lori Feldman at 440-497-4103 or visit http://www.kyntrol.com for more information.
Featured Product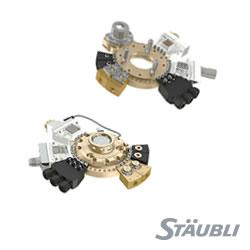 TX2 robots: redefining performance by offering collaborative safety and high performance in a single machine. These pioneering robots can be used in all areas, including sensitive and restrictive environments, thanks to their unique features. Safety functions are easy and inexpensive to implement. They allow a higher level of interactions between robots and human operators, while still guaranteeing protection of your people, production and investment.