New slim, lightweight and high clamping force Bilsing gripper can become the standard across a variety of robotic end-of-arm tooling applications.
Roseville, MI January 31, 2014

Bilsing Automation North America has announced the availability of its new PSB-20 series grippers featuring a number of design advantages that allow it to meet a wide range of applications. The PSB-20 has a small, flat design that decreases collision risk and reduces weight to achieve increased stroke rates. High clamping force and a self-locking feature ensure higher production safety. These pneumatic grippers also offer the benefit of bi-parting parallel jaws.
"We've designed the PSB-20 series in a range of configurations - all with a slim profile, yet clamping strength that allows it to become our standard offering," said Ben Pauzus, general manager of Bilsing Automation N.A. "Overall, the design of the PSB-20 series is sleek, lightweight and durable -- having been tested to 1,000,000 strokes."
The PSB-20 series grippers are manufactured from high strength aluminum and can reach 80 strokes per minute. Air consumption is 6 bar/double stroke: <0.1dm3.
This new series is available in fixed jaw, block jaw, and L-versions -- all with either two clamping pins or thin versions with one clamping pin. Depending upon the configuration, both jaws can be dynamic. All styles can be ordered with or without the self-locking feature. Grippers with this feature achieve 800 N clamping force and those without can reach 480 N clamp force.
Various connection choices are also available including lateral ball, lateral pin, back ball connection or STS-tube connection in the back. And, the PSB-20 series is also available in a part placement sensor version.
For more information contact: Bilsing Automation North America, 20100 Cornillie Drive, Roseville, MI 48066, 586-463-0686 info(at)bilsing-automation(dot)com or visit http://www.bilsing-automation.com.
Bilsing Automation North America is a subsidiary of Bilsing Automation GmbH (Attendorn, Germany), a global leader with over 30 years experience in the development and manufacture of engineered tooling solutions serving the automotive, plastics, food, glass and other industries. The company is focused on providing optimum product performance that results in cost reductions, supporting the customer through planning, design, engineering, assembly and commissioning. Bilsing Automation also offers 3D Line Scanning, 3D digital simulation and on-site training as part of its service offerings.
Featured Product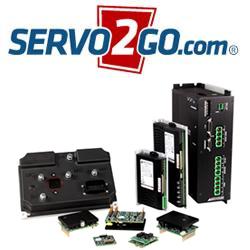 Engineered to drive brushless and brush servomotors in torque, velocity or position mode, Servo2Go.com offers a broad selection of servo drives in a wide range of input voltages and output power levels.