Funds awarded to support K-12 science, technology, engineering and math education programs nationwide
AUSTIN, Texas--Continuing its commitment to help develop the next generation of innovators, the Freescale Foundation today announced its grant recipients for calendar year 2013. The funding supports science, technology, engineering and math (STEM) focused education programs for K-12 students in Central Texas, Arizona and across the U.S.

Launched in May 2013, The Freescale Foundation is a nonprofit, 501(c)(3) organization committed to helping alleviate global talent shortages by inspiring students - especially those from underrepresented groups - to pursue careers in STEM-related fields.
2013 Freescale Foundation grant recipients include:
*First Bytes, University of Texas at Austin, Department of Computer Science - Austin, Texas
**First Bytes is a free, one-week computer science summer camp for high school girls, exposing students to computer programming, robotics and mobile app development. Funding from the Freescale Foundation will be used to provide room and board, field trips and supplies for campers.
*Future City Competition - Phoenix, Arizona
**By designing a city of the future, 6th through 8th grade students who participate in the Future City Competition work as a team with an engineer on a real-world problem. With more than 140 Arizona schools participating, funding will be used to help produce the 2014 competition.
*Girl Scouts of Central Texas - Austin, Texas
**The Girl Scouts of Central Texas supports more than 20,000 girls in grades K-12 across 46 regional counties. Funding will be used to provide a series of in-depth STEM programs and events that will enhance girls' understanding of STEM themes while encouraging them to follow a STEM career path through college.
*Invent Now, Inc. - Nationwide
**Invent Now is a nationwide organization that creates programs that encourage over 250,000 children, teachers, parents, college students and independent inventors to explore science and technology every year. The organization will use the funding to support their Camp Invention program and enable underserved children to attend these STEM enrichment opportunities.
*Skillpoint Alliance - Austin, Texas
**Skillpoint Alliance is a workforce development agency serving both adults and K-16 students in Central Texas. Skillpoint Alliance will use the funding to support local FIRST® Robotics tournaments, summer camps and educator workshops, as well as enable female and economically disadvantaged students to attend STEM-focused summer camps.
*United Way for Greater Austin - Austin, Texas
**The United Way for Greater Austin works collaboratively with the Austin community to develop sustainable solutions for working poor families. Funding from the Freescale Foundation will be used to improve the quality of instruction in STEM afterschool and summer programs for nearly 150 students in the Austin area.
"As a company that thrives on innovation, Freescale believes that technology has the power to remove obstacles, grow economies, bring people together and make the world a better place," said Gregg Lowe, president and CEO, Freescale. "It's encouraging to see the growing number of students gravitating towards STEM programs and an honor to be able to support these opportunities right here in the communities where Freescale employees live and work."
About Freescale Semiconductor
Freescale Semiconductor (NYSE:FSL) is a global leader in embedded processing solutions, providing industry leading products that are advancing the automotive, consumer, industrial and networking markets. From microprocessors and microcontrollers to sensors, analog integrated circuits and connectivity - our technologies are the foundation for the innovations that make our world greener, safer, healthier and more connected. Some of our key applications and end-markets include automotive safety, hybrid and all-electric vehicles, next generation wireless infrastructure, smart energy management, portable medical devices, consumer appliances and smart mobile devices. The company is based in Austin, Texas, and has design, research and development, manufacturing and sales operations around the world. www.freescale.com
Freescale and the Freescale logo are trademarks of Freescale Semiconductor, Inc., Reg. U.S. Pat. & Tm Off. All other product or service names are the property of their respective owners. © 2014 Freescale Semiconductor, Inc.
Featured Product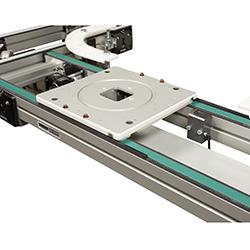 Dorner's 2200 Series Precision Move Pallet Systems are ideal for assembly automation. With features such as an innovative timing belt conveyor design and industry best pallet transfers, they get your product to the exact location, at the exact time and in the exact position it needs to be. They are now available with new options such as heavy load corner modules with 150 lb. capacity and 180 degree tight transfer corners for compact loops.