Complex projects require custom solutions.
Stevensville, MD February 06, 2014

When Michigan Manufacturing International (MMI) CEO Jacob Prak learned that one of the company's clients had a project with a combination of special conditions that had to be met, he carefully considered the details and the possible solutions.
MMI, a leading broad line supplier of high-quality mechanical assemblies and components, is often presented with specific requests, but this project was even more complex.
"There were a number of challenges that we had to overcome," said MMI sales rep Andy Lamb. "Our client was facing quality issues with a part used on one of their machines. The part had to be highly thermally conductive, it had to have a certain minimum mass, plus it needed to be corrosion resistant. An all-stainless steel part was too costly for the customer to use, and plated steel/iron eventually rusted in the application."
Prak commented on the situation, saying, "We looked into a number of options, and decided that the best solution was to use conductive Nylon molded over steel to accomplish these difficult-to-reconcile goals. Working closely with our customer, we came up with a solution to their problem."
The Roboshot S2000i 110B molding machine in combination with a Yushin YAII 150 robot was installed to fulfill the requirements of this project. This machinery efficiently overmolds a steel / stainless steel composite insert with conductive Nylon. The molding machine is all electric which allows for much better control of molding parameters as compared to hydraulic machines. The robot allows for enhanced productivity while removing the processing variability associated with an inconsistent cycle time.
MMI has manufactured over three million parts since getting the molding machine up and running. CEO Jacob Prak commented on the new machinery, saying, "We always aim to meet our clients design or manufacturing needs, regardless of whether that requires a significant investment in machinery. With our new facilities in Hosur, India and in Stevensville, Maryland, we have the capability to create a wide variety of new manufacturing capabilities to complement our extensive current ones."
Founded in 1991, Michigan Manufacturing International (MMI) specializes in supplying manufactured to print assemblies and components to original equipment manufacturers (OEM). Products include assemblies, castings, stampings, machined parts, gears, bearings and more. Services include product engineering, manufacturing, inventory management and stocking programs - all designed to streamline client operations and increase profitability. MMI designs the most effective, highest quality solutions from anywhere in the world.
For more information about MMI, visit http://www.michmfg.com or call 800-677-0504.
Featured Product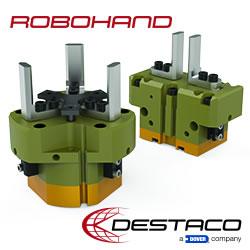 Automatically change end effector tooling quickly and easily with Destaco's Automatic Tool Changers. Designed with exceptional repeatability, high rigidity and load capacity, they are perfect for multiple tooling applications utilizing one robot. We offer different models and sizes to handle light-duty to heavy-duty applications. Our RQC/RTP Series provides a high level of flexibility with a configurable, modular design that accommodates up to four optional modular interfaces.