Crowdsourced campaign allows you to suggest and vote on the robot's name.
Dallas February 06, 2014

RoboKind, the world leader in social robotics, announces the Robots4Autism Name Our Robot Contest, which invites members of the autism, special needs and education communities to suggest and vote on a name for the company's social robot. The robot is the central component in Robots4Autism, a comprehensive autism intervention program that uses purpose-built social robots and developmental instruction to teach critical emotional and social skills.
Voted Most Innovative during the annual SIIA Innovation Incubator Program, RoboKind offers the world's most affordable humanoid robot. Through its unique CompuCompassion software, the robot reads an individual's emotions and level of attentiveness, adjusting interactions accordingly to enable human-like social engagement.
"We originally named our robot Zeno," said Fred Margolin, RoboKind CEO and founder. "But for some kids with speech and language difficulties, the "z" sound can be a challenge to pronounce. We also wanted to distinguish the Robot4Autism program from our RoboSteps STEM instruction program, which refers to its robot as Zeno too."
Appealing to interests of children on the autism spectrum, while building on their strengths, the Robots4Autism program bridges academic success and developmental needs. Purpose-built for autism intervention, the interactive robot and its versatile curricula are designed as a powerful supplemental tool to assist educators and practitioners in providing effective special education and therapy.
"Our robot is a friend and peer leader," said Claude Bove, director of school sales. "He's friendly and patient - he doesn't intimidate children with autism, as do many human interactions. The robot offers a non-threatening way for children to learn and practice social skills, and we want them to have a part in giving their friend a name."
Designed by field experts, the Robots4Autism curricula are based on proven autism therapy methods. Voting is open to anyone 18 and older, or to children under 18 with parental supervision. To meet the robot and suggest a name, visit http://www.robots4autism.com.
About RoboKind
RoboKind, the world leader in social robotics, designs and builds a series of robots that enable people to engage with robots on a personal level. Through the Robots4Autism and RoboSteps programs, RoboKind leverages these advanced social robots to supplement autism therapy, special education and STEM instruction. The programs use humanoid robots that feature life-like facial expressions, natural social interaction and comprehensive curriculum to assist educators and therapists in helping students learn and grow. For more information, visit http://www.robokindrobots.com.
Featured Product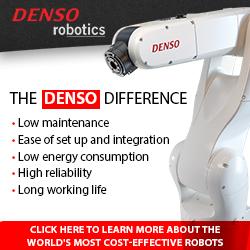 DENSO is the world's largest manufacturer - and user - of small assembly robots, employing over 17,000 of its robots in its own facilities. Over 77,000 additional DENSO robots are used by other companies worldwide. The compact, high-speed robots are used in traditional manufacturing sectors, as well as in advanced-technology applications in the medical, pharmaceutical and life sciences industries. Learn more about DENSO Robotics