QinetiQ North America Supplies Fleet of Robots to New Jersey State Police as Part of Safety Preparedness Plan at Super Bowl XLVIII
Reston, Va.-February 6, 2014-QinetiQ North America (QNA) announced today that its robots were used to support the Detect and Render Safe Task Force from state, municipal, county, and federal agencies, headed by the New Jersey State Police, at Super Bowl XLVIII. The robots, which are produced out of the company's Waltham, Mass. facility, ranged in size from 10 to 8,000 pounds.

The QNA robots at MetLife Stadium included the throwable Dragon Runner™ 10, the backpackable Dragon Runner 20, the battle proven TALON® with a wide array of hazardous material sensors on board, and the massive Spartacus robot that has the ability to lift and remove suspicious vehicles.
Over the week preceding game day, QNA personnel trained the Detect and Render Safe Task Force in using the robots should they be needed at Super Bowl XLVIII. QNA's robots were then positioned with their first responder operators in advantageous locations and awaited the call that, fortunately, never came.
This fleet of veteran robots has earned its stripes in America and abroad. They were on the scene at the World Trade Center on 9/11 when QNA personnel and TALON robots supported search missions for seven weeks, 24/7; QNA personnel, Dragon Runner 20s, TALONs and Spartacus robots were sent to Fukushima in March 2011 to assist with disaster relief efforts; and most recently, QNA robots were used in Boston, Cambridge and Watertown after the marathon bombing in April 2013. As the search ensued for the bombers, QNA maintained a ready crew of deployable robot experts in Waltham in case additional robots and operators were needed to assist in hunting for the bombers and their explosive devices.
"Our robots are being used in over three dozen countries today, and thousands of our platforms have been used in Iraq and Afghanistan to defeat tens of thousands of improvised explosive devices," said Dr. Andy Rogers, executive vice president and general manager, Technology Solutions, QinetiQ North America. "We are tremendously proud to support the brave men and women across America and overseas who tireless work to keep our communities and nations safe."
Operating as the U.S. component of QinetiQ's Global Products division, QNA's Technology Solutions business unit is a world leader in robotic technology solutions that save lives in defense, security and first responder environments. For more information, please see our website www.qinetiq-na.com, read our blog techblog.qinetiq-na.com and follow us on Facebook www.facebook.com/qinetiqna or Twitter www.twitter.com/QinetiQNorthAm.
About QinetiQ North America
QinetiQ North America (QNA) is a subsidiary of QinetiQ Group plc, the FTSE250 company listed on the London Stock Exchange (LSE:QQ.L). Operating in North America, QNA delivers world-class technology, responsive services, and innovative solutions for global markets, focusing on U.S. government and commercial customers. Its engineers, scientists and other professionals deliver high quality products and services that leverage detailed mission knowledge and proven, reliable tools and methodologies to meet the rapidly changing demands of national defense, homeland security and information assurance customers. QNA is headquartered in Reston, Virginia. For more information visit www.qinetiq-na.com and join our conversation at www.facebook.com/qinetiqna.
Featured Product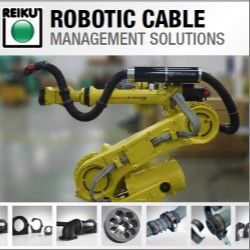 REIKU's Cable Saver™ Solution eliminates downtime, loss of revenue, expensive cable and hose replacement costs, maintenance labour costs. It's available in three sizes 36, 52 and 70 mm. All of the robots cables and hoses are protected when routed through the Cable Saver™ corrugated tubing. The Cable Saver™ uses a spring retraction system housed inside the Energy Tube™ to keep this service loop out of harms way in safe location at the rear of the Robot when not required. The Cable Saver™ is a COMPLETE solution for any make or model of robot. It installs quickly-on either side of the robot and has been tested to resist over 15 million repetitive cycles.