Comau will provide Elio Motors with powertrain and automated assembly systems to build its revolutionary three-wheel, high efficiency vehicle.
Troy, MI February 11, 2014

Start-up automotive company Elio Motors has selected Comau Inc., a global leader in the development and implementation of engineering solutions for sustainable automation and production, as its automation partner. Comau will provide Elio Motors with powertrain and automated assembly systems to build its revolutionary three-wheel, high efficiency vehicle. Production is slated to begin the first quarter of 2015 in the newly assumed facility in Shreveport, LA.
The Elio's notable specifications, include an affordable list price of $6,800, an 84mpg highway rating, and is engineered for a 5-star crash test safety rating. Each vehicle comes equipped with standard features such as air conditioning, heat, defrost, power windows, power door lock, tempered glass, three airbags, and an AM/FM radio. In addition, the vehicle is outfitted with an 8-gallon tank which enables drivers to travel upward of 670 miles without the need for a fill up and a Safety Management System comprised of a reinforced roll-cage, Anti-Lock Braking System and 50 percent larger crush zones than similar vehicles.
Comau Powertrain Systems will be used to machine and assemble the Elio's 0.9L 3-cylinder, 60 hp engine, while Comau Body Welding Systems will design, build and install systems to assemble the vehicle's welded space frame and apply the interior and exterior composite body panels (e.g., floorpan, bodysides, roof, doors, hood, trunk and fenders) to the frame. Elio Motors is also in discussions with Comau's After Sales team to conduct plant health assessments to optimize reutilization of assets as well as Comau Robotics for specialty robotic applications throughout the assembly process.
"Comau has a long-standing positive reputation in the industry given their involvement in one in three vehicles in the world," said Paul Elio, Founder and CEO of Elio Motors. "We are honored to include Comau in our list of industry-leading suppliers and welcome their support as an integral part of our project."
"We are very pleased to be partnering with Elio Motors on the assembly of this revolutionary three-wheel vehicle," said Kirk Goins, Comau's NAFTA CEO. "Our long-standing leadership in customized automation systems for the automotive market will optimize the entire assembly process for the Elio and provide an energy efficient manufacturing solution."
Comau joins Elio Motors' blue chip supplier partner list who have been integral is the success of the transportation company thus far. This list includes: Altair, IAV, NEWTECH 3, Cooper Tires, Irvin, Continental, Henkel, Admiral Tool, Technosports Creative, Cooper Standard, Dakkota Lighting Technologies, LCC, Detroit Thermal Systems, Eastern Catalytic, Guardian, Mando Corporation, JNM Tool & Manufacture Inc., Kiekert, Lear Corporation, Peterson Spring, Plastics Research Corporation, Superior Roll Forming, and Takata.
For more information regarding Elio Motors, please visit http://www.eliomotors.com or http://www.facebook.com/ElioMotors.
About Elio Motors: Founded by car enthusiast Paul Elio in 2008, Elio Motors Inc. represents a revolutionary approach to manufacturing an ultra-high-mileage vehicle. The three-wheeled Elio will attain a highway mileage rating of more than 80 mpg while providing the comfort of power windows and air conditioning, accompanied by the safety of multiple air bags and an aerodynamic, enclosed vehicle body. Elio's first manufacturing site will be in Shreveport, La., with plans for the first production vehicle to roll off assembly lines in early 2015 and significant production, sales and distribution of the Elio during the next two years. For more information, visit http://www.eliomotors.com. Contact for journalists: Chip Stempeck - cstempeck(at)eliomotors(dot)com or Allison Hurt - ahurt(at)BERLINE(dot)com.
About Comau
Comau is the worldwide leader in manufacturing flexible, automatic systems and integrating products, processes and services that increase efficiency while lowering overall costs. Headquartered in Turin, Italy, with an international network that spans 13 countries, Comau uses the latest technology and processes to deliver advanced turnkey systems that consistently exceed the expectations of its customers. Comau specializes in body welding & assembly, powertrain machining & assembly, robotics & maintenance as well as environmental services for a wide range of industrial sectors. The continuous expansion and improvement of its product range enables Comau to guarantee customized assistance at all phases of a project -- from design, implementation and installation, to production start-up and maintenance services. For further information about Comau's consolidated experience and its vast portfolio of products and services supporting the automotive sector, visit http://www.comau.com. Contact for journalists: Dick Pacini - dpacini(at)millerschingroup(dot)com or press(at)comau(dot)com.
Featured Product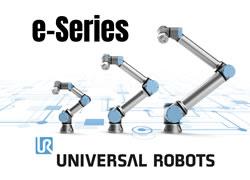 With the new e-Series cobot line, Universal Robots raises the bar for cobots, adding unique new features while significantly strengthening the four core principles defining collaborative robots: fast set-up, easy programming, flexible deployment, and safe operation. With a new built-in, tool-centric Force/Torque sensor the e-Series is ready to take on applications requiring force control right out of the box. A repeatability of 30 micron means the new cobots are suitable for very precise finishing, assembly and electronics tasks. A re-designed user interface decreases cognitive load and expedites program development, while a new externally accessible, 500Hz system bus enables more complex motion control algorithms or profiles.