CarePoint Health's $2.5 million investment brings state-of-the-art technology to Jersey City.
Jersey City, NJ February 10, 2014

At CarePoint Health - Christ Hospital, Dr. Daniel Smith, assisted by Dr. Nayel Helmy and supported by a specialized team of nurses, performed two pioneering robotic surgeries (a hysterectomy and the removal of a complex ovarian mass). Both patients are recovering well and were discharged from the hospital the following day. The surgeries represent a breakthrough for health care in Hudson County. Previously, patients had to travel out the county or out of state to find the technology and a trained physician to perform robotic surgery. Now, for the first time, patients have access to a minimally invasive robotic surgery program in Jersey City.
The da Vinci robot at CarePoint Health - Christ Hospital, nicknamed "Mona", is part of a larger initiative, backed by a $2.5 million investment, to respond to the growing health care needs of the region. With the da Vinci System, surgeons operate through just a few small, minimally invasive incisions. The da Vinci System features a magnified 3D high-definition vision system and wristed instruments that bend and rotate far greater than the human wrist. As a result, da Vinci enables a surgeon to operate with enhanced vision, precision, dexterity and control. The surgeon is 100% in control of the da Vinci System, which translates his or her hand movements into smaller, more precise movements of tiny instruments.
Initially, CarePoint Health - Christ Hospital will use the robotic platform for advanced gynecologic surgery. Soon, the hospital will offer similar expertise for patients needing urologic procedures, general surgical procedures and certain thoracic procedures. While the program is new, the expertise of the robotic surgeons is well-known. Dr. Daniel Smith has been operating robotically for over seven years and brings gynecologic and surgical talent as well as organizational skills to the program. Additionally, other nationally known surgical specialists have joined the program, including Dr. Vincent Lanteri, Dr. Michael Esposito and Dr. Mutahar Ahmed. The surgeons are supported by a full team of nurses and anesthesiologists specifically trained for robotic procedures.
For more information about this groundbreaking program contact:
Allyson Miller
CarePoint Health
Vice President of Marketing and Public Relations
Phone: 201-858-5297
Fax: 973-646-5563
Email: AMiller(at)bayonnemedicalcenter(dot)org
About CarePoint Health:
CarePoint Health brings quality, patient-focused health care to Hudson County. Combining the resources of three area hospitals - Bayonne Medical Center, Christ Hospital in Jersey City, and Hoboken University Medical Center - CarePoint Health provides a new approach to deliver health care that puts the patient front and center. We leverage a network of top doctors, nurses and other medical professionals whose expertise and attentiveness work together to provide complete coordination of care, from the doctor's office to the hospital to the home. Patients benefit from the expertise and capabilities of a broad network of leading specialists and specialized technology. And at CarePoint Health, all of our medical professionals emphasize preventive medicine and focus on educating patients to make healthy life choices. For more information on our facilities, partners and services, visit our website, http://www.carepointhealth.org.
About Dr. Daniel H. Smith:
Unique in his training in Obstetrics and Gynecology, GYN Oncology, and General Surgery, Dr. Daniel H. Smith brings broad technical experience to women with severe gynecologic problems. At CarePoint Health, he leads Gynecologic Oncology and General Gynecology. Dr. Smith is one of the first gynecologists certified to use the da Vinci robotics platform, and he offers this additional level of minimally invasive surgery to his patients. Dr. Smith is also committed to other aspects of minimally invasive surgery such a single port laparoscopy complex gynecologic problems.
In addition, Dr. Smith is the co-Director of the CarePoint Health Cancer Center, centered at Christ Hospital. Joining an increasing number of cancer specialists, Dr. Smith will help coordinate patient oriented navigation through diagnostic and treatment phases of all patients with malignancies. Physical additions to the center are underway, and Dr. Smith and the CarePoint Health team are preparing to offer the best cancer care for our community. Although there are three campuses, Hoboken University Medical Center, Christ Hospital, and Bayonne Medical Center, cancer care will be available at all sites under the direction of the Cancer Center.
Originally from Oklahoma, Dr. Smith graduated from both Harvard College and Harvard Medical School. He began his General Surgery residency at the Massachusetts General Hospital. During this surgical residency, which he completed in 1979, he also completed a residency in Obstetrics and Gynecology at Los Angeles County/USC Medical Center. Following his planned trajectory, he then completed a Fellowship in Gynecologic Oncology at Memorial Sloan-Kettering Cancer Center. Dr. Smith has practiced in both New York and New Jersey. He is active in teaching and attained the first Center of Excellence in Minimally Invasive Gynecology in New Jersey.
Featured Product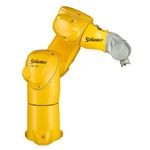 TX2 robots: redefining performance by offering collaborative safety and high performance in a single machine. These pioneering robots can be used in all areas, including sensitive and restrictive environments, thanks to their unique features. Safety functions are easy and inexpensive to implement. They allow a higher level of interactions between robots and human operators, while still guaranteeing protection of your people, production and investment.