Plastic injection molding company upgrades machinery to showcase growth and leadership.
Hudson, New Hampshire February 20, 2014

Johnson Precision, a global manufacturer of thermoplastic injection molded components and assemblies to the medical device marketplace, has announced its acquisition of three new, state-of-the-art Arburg injection molding machines.
Replacing its existing injection molding equipment, Johnson Precision's new Arburg models serve to highlight the company's continued drive toward manufacturing excellence, in both its products and its practices. Not only do the brand new Arburg machines represent a significant technical upgrade from the previous machinery used by Johnson Precision, they'll also be used to refine standardized process engineering practices and LEAN initiatives used by the company.
"We're making a substantial move towards using product families in our operations and with the acquisition of our new Arburg injection molding machines, Johnson Precision has taken a significant step towards streamlining our processes even further," said Jason Stein, Manufacturing Manager at Johnson Precision.
The three machines, two 55-ton models and a 28-ton model, will be housed in Johnson Precision's 5,000 square foot, ISO Class 8 clean room. Each Arburg injection molding machine features innovative touch screen controls and advanced calibration options, while the 28-ton machine will give Johnson Precision the capability to mold components on a micro-scale.
"Now, we're looking at reduced setup times and a stricter approach to process control, which will serve to help us continue our industry leadership through the products and services that we offer," said Stein.
Stein, a graduate of the University of Massachusetts-Lowell and veteran in the injection molding industry, will guide Johnson Precision in the implementation and use of its new Arburg injection molding machines. His experience regarding scientific molding practices and prior employment with industry competitors will facilitate the integration of this new technology into the company's leading business model.
Coming on the heels of 17 percent company growth in 2013, Johnson Precision will rely on its new Arburg machines to continue setting the paradigm for excellence in 2014.
Johnson Precision delivers more than just exceptional products-the company delivers value through its best-in-class engineering support, global capabilities and integrated supply-chain insights. For more information regarding Johnson Precision, its services or its product offerings, please visit the company's website at http://www.jpi-plastics.com/.
Featured Product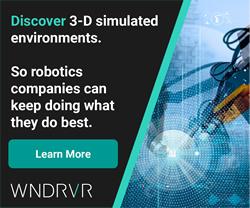 Develop new robotic capabilities with ROS 2 for VxWorks. ROS 2 for VxWorks® project provides custom modifications and build scripts to integrate the Robot Operating System 2 (ROS 2) framework with VxWorks 7. ROS 2 is a set of software libraries and tools that aid in building robot applications. Build ROS 2 for VxWorks using 1) with a VxWorks SDK that is available on the site under a free non-commercial use license; or via 2) with a commercially-licensed VxWorks product.