Lockheed Martin received a contract from the U.S. Army Robotics Technology Consortium to conduct a fully autonomous reconnaissance, surveillance and target acquisition experiment using both its Squad Mission Support System (SMSS) unmanned ground vehicle and K-MAX unmanned air vehicle.
In collaboration with the U.S. Army Tank Automotive Research, Development and Engineering Center, Lockheed Martin will conduct a notional scenario later this year, in which a K-MAX autonomous rotorcraft will transport a Gyrocam-equipped SMSS via sling load into a simulated "area of interest" deemed too risky for human presence. The K-MAX will position itself over the intended release point and autonomously set down, releasing the SMSS upon command from a remote operator.

Once delivered, the sensor-laden and satellite communications-equipped SMSS will assess the area using a combination of autonomous capabilities and tele-operation that will be managed from a remote site, while the K-MAX returns to base.
"This level of mission cooperation between unmanned air and ground vehicles of this size, controlled beyond line-of-sight, is an industry first," said Joe Zinecker, director of combat maneuver systems at Lockheed Martin Missiles and Fire Control. "We believe this demonstration could lead to expanded missions, such as remote sensing and monitoring of suspected chemical, biological, radiological, nuclear and explosive threats or events."
Contract terms are not being disclosed. The demonstration is a follow-up to a 2012 exercise at Camp Grayling, Mich., in which a Gyrocam-equipped SMSS, operated via satellite from more than 200 miles away, successfully conducted a simulated reconnaissance mission.
In this new scenario, the reconnaissance, surveillance, target acquisition sensor onboard the SMSS will be used to locate, observe and obtain coordinates of targets and other objects of interest. The coordinates and sensor imagery will be passed back through a satellite communications system to a remote operations center hundreds of miles away for analysis.
Headquartered in Bethesda, Md., Lockheed Martin is a global security and aerospace company that employs approximately 115,000 people worldwide and is principally engaged in the research, design, development, manufacture, integration and sustainment of advanced technology systems, products and services. The Corporation's net sales for 2013 were $45.4 billion.
http://www.lockheedmartin.com/
Featured Product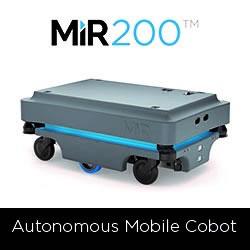 MiR200 is a safe, cost-effective mobile robot that automates your internal transportation. The robot optimizes workflows, freeing staff resources so you can increase productivity and reduce costs. MiR200 safely maneuvers around people and obstacles, through doorways and in and out of lifts. You can download CAD files of the building directly to the robot, or program it with the simple, web-based interface that requires no prior programming experience. With its fast implementation, the robots offers a fast ROI, with payback in as little as a year.