The first demo day is scheduled for March 5th, with a repeat event on March 6th, 2014.
Pleasanton, Calif., February 27, 2014 - Adept Technology, Inc.

(Nasdaq:ADEP), a leading provider of intelligent robots, autonomous mobile
solutions and services, today announced that it will host two New Product
and Technology Demo Day events at its Application and Demo Center in
Amherst, New Hampshire. The first demo day is scheduled for March 5th, with
a repeat event on March 6th, 2014. The interactive program will give
participants a chance to learn about Adept's state-of-the-art technology
portfolio, see the company's latest product demonstrations, and discuss
their specific automation needs with Adept's applications engineering
specialists.
"We're looking forward to hosting the New Product and Technology Demo Days
in Amherst, reinforcing our commitment to the robot industry located in New
England and the tri-state area," said Merrill Apter, Adept vice president of
North America sales. "It's an ideal opportunity for robotics end users,
integrators, and those responsible for determining a factory automation
strategy for their business, to learn about our new products and
technologies, to see in person what these unique tools can do, and to get
feedback on their automation plans and projects from our experienced team."
Adept's demo days will include presentations from the company's applications
engineering team on several innovative products and technologies, hands-on
technology demos, and opportunities for networking. Among the technologies
covered will be the company's "ePLC" robots, designed to significantly
streamline system programming and reduce necessary hardware; and Adept's
unique self-navigating "Lynx" mobile robot platform for applications such as
material movement in warehouses and logistics applications.
Adept's Application and Demo Center in Amherst is the newest addition to the
company's technical centers located worldwide. The facility allows end users
and integrators to prove out their automation applications using Adept
robots, advanced vision guidance, and associated technologies. Other Adept
facilities are located in California, Germany, France, Singapore and China.
Registration for the two New Product and Technology Demo Day events is by
invitation only. For more information on these regional events, please
contact Christine Hopkins, marketing coordinator, at
christine.hopkins@adept.com.
About Adept Technology, Inc.
Adept is a global, leading provider of intelligent robots, autonomous mobile
solutions and services that enable customers to achieve precision, speed,
quality and productivity in their assembly, handling, packaging, testing,
and logistical processes. With a comprehensive portfolio of high-performance
motion controllers, application development software, vision-guidance
technology and high-reliability robot mechanisms with autonomous
capabilities, Adept provides specialized, cost-effective robotics systems
and services to high-growth markets including medical, electronics, food and
semiconductor; as well as to traditional industrial markets including
machine tool automation and automotive components. More information is
available at www.adept.com.
Featured Product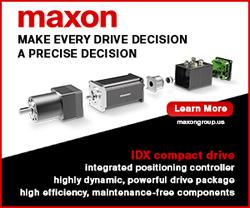 A brushless DC motor solution for use in hip and knee exoskeletons. This complete joint actuation unit consists of motor, gearhead, encoder and position controller. Fitting absolute encoder directly at the joint rotation provides designers increased positioning accuracy. The unit will deliver 54Nm of continuous torque and 120Nm on a 20% duty cycle. The system can be operated on supplies between 10 and 50V DC and the actuation speed is up to 22rpm.