The patent describes automation technology enhancing designs of transportation systems which can scale from relatively simple conveyors all the way to far more complex systems responsible for traffic control and navigation of intelligent unmanned vehicles.
San Diego, CA February 27, 2014

The patented technology (US No. 7,844,416) enhances the designs of a variety of transportation systems, from relatively simple conveyor systems moving discrete items along the conveyor tracks to complex systems responsible for traffic control and navigation of intelligent unmanned vehicles along a predefined path.
In respect to intelligent traffic control and navigation systems, the controller based on feedback provided from sensors strategically positioned along a predefined path, will analyze, in real-time, profiles of each object along the path, as well as the status of the overall traffic of objects along the path, and then automatically, without operator assistance, executes controls aimed at directing the traffic in order to achieve the preset acceptance criteria.
The acceptance criteria for each object includes horizontal, vertical and 3D object profiles. The objects which do not meet the criteria will be rejected, and then either prevented from entering traffic or removed from the traffic.
The acceptance criteria for the overall traffic of objects along the path includes: location of objects, motion parameters for each object such as direction, speed, etc.
The controller continuously analyzes the status of traffic and in real-time adjusts motion parameters for each intelligent object to sustain the overall traffic within the acceptance criteria.
According to inventor Zack Braunstein, the patented technology is applicable for improving existing transportation systems, as well as for development of new transportation systems consisting of robots, unmanned vehicles, etc.
About ADVS-technologies:
ADVS-technologies is a young and ambitious company specializing in the development of innovative proprietary technologies with an extensive portfolio of patented technology in the areas of illumination systems, power distribution systems, pharmacy, store automation, and transport systems. The objective of ADVS-technologies is to provide effective and efficient environmentally friendly solutions with the intent of improving quality of services.
For more information, please visit http://www.advs-technologies.com.
Featured Product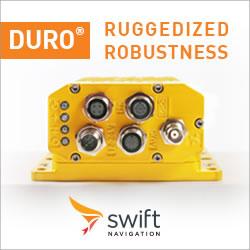 Duro® is a ruggedized version of Swift Navigation's Piksi® Multi RTK GNSS receiver. Built to be tough, Duro is designed for easy integration into existing equipment. This affordable, easy-to-deploy GNSS sensor delivers robust, centimeter-accurate positioning while protected against weather, moisture, vibration, dust, water immersion and the unexpected that can occur in outdoor long-term deployments.