MODEX Show in Atlanta, Georgia, March 17 -20
FARMINGTON HILLS, Mich.--Daifuku Webb - the leading provider of material handling solutions - will showcase its automated supply chain solutions including integrated systems with its latest acquisition, Wynright Corporation, at MODEX Show in Atlanta, Georgia, March 17 -20. Daifuku Webb acquired Wynright, headquartered in Elk Grove Village, Illinois, in October 2013. A news conference will be held at 9 a.m. in booth #4918 on Monday, March 17 to discuss the company's growth in 2013 including the addition of more than 700 new employees, product advancements and upcoming projects.

"With the addition of Wynright, no company offers as many automated material handling solutions for supply chains as Daifuku Webb," said Brian Stewart, President & CEO of Daifuku Webb Holding Company. "We are a total system provider from start to finish, including engineering, consulting, integration, manufacturing, controls and software design, installation and service."
Daifuku Webb provides Automated Storage & Retrieval Systems (ASRS), Automatic Guided Vehicles (AGVs), a wide variety of conveyors, voice- and light-directed order fulfillment equipment, robotics controls, and software.
In addition, the company will showcase its Model 100TT SmartCart Automatic Guided Cart (AGC), System Automation Manager (SAM), SmartPanel HMI display and mobile app. SmartCart AGC is a flexible and cost-effective Automatic Guided Vehicle (AGV) that is ideal for moving products on an assembly line or transporting goods throughout a plant or warehouse. Daifuku Webb will show how AGCs can add flexibility to an order picking operation during live booth demonstrations. SAM is a robust control system for AGVs and AGCs that manages the movement of all vehicles and provides comprehensive reports. SmartPanel is a touch-screen interface that can be used to communicate directly with a vehicle, guiding its locations and tasks. Finally, with the mobile app, users can control a vehicle's movement on their mobile device.
Join us for our on-floor seminar, "How Can Automatic Guided Carts Help Your Business", Tuesday March 18th at 12:45PM in theater F.
About Daifuku Webb Holding Company
Daifuku Webb Holding Company, a subsidiary of Daifuku Co. Ltd., is a leading developer of innovative material handling technology such as Automatic Guided Vehicles (AGVs), Automated Storage and Retrieval Systems (AS/RS), conveyors, baggage handling systems, bulk handling systems, cleanroom systems, robotics, light- and voice order fulfillment solutions and airport maintenance services. It includes Daifuku America Corporation, Jervis B. Webb Company, Wynright Corporation, Elite Line Services and Logan Teleflex, Inc. Daifuku Webb specializes in the design, engineering, manufacturing, installation and service of integrated systems used in the automotive, airport, semiconductor, LCD equipment, food/beverage, bulk, warehousing and manufacturing industries. Daifuku Webb Holding Company is headquartered in Farmington Hills, Mich., with manufacturing locations throughout North America.
Featured Product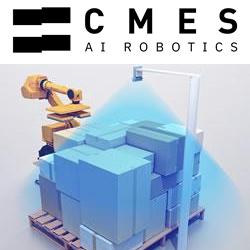 Powered by AI, CMES Robotics enables 3D vision for factory robots. CMES AI vision software enables robots to recognize unstructured, flexible, or deformed objects, pick them up, and loading and unloading. CMES Vision software has been deployed worldwide for random palletization and depalletization along with void filling applications. CMES Robotics automates your warehouse, logistics, and supply chain. For more information, please visit: cmesrobotics.com or email info@cmesrobotics.com.