Highland Controls today announced that it has a new certification and that the company now distributes and integrates products from leading manufacturers, including Yaskawa America Drives & Motion Division, Delta Tau Data Systems and STOBER Drives.
Richfield, Ohio March 05, 2014

Highland Controls is pleased to announce that it received another industry certification and now distributes and integrates products from leading manufacturers, including Yaskawa America Drives & Motion Division, Delta Tau Data Systems and STOBER Drives.
National Instruments (NI) has designated Highland Controls as an Alliance Partner, a widely recognized certification for companies that integrate NI and third party motion controllers into LabVIEW applications.
Known for supporting engineers and scientists with tools and techniques for accelerated discovery, innovation and productivity, NI offers a graphical system design approach to engineering. NI provides an integrated software and hardware platform that speeds the development of systems that need measurement and control.
"We pursued the certification to ensure that we're aligned with the latest technologies and training to ensure that we provide our customers with the best solutions," Highland Controls President Brian Beal says. "As a motion control systems integrator, we look forward to supporting their unique needs with outstanding motion control and related products."
Highland Controls recently became a distributor of motion control products from STOBER Drives.
Solutions from STOBER Drives include gearing solutions that are designed to help many different applications perform better over a longer period.
Products include:
*ServoFit™ inLine and offset gearheads
*ServoFit™ hollow and right angle gearheads
*EZM ball screw servo motor
*ServoStop, an integrated brake module for servo motors
*ServoCool, which extends the operational efficiency and service life of planetary gearheads
Highland Controls is also an integrator for Yaskawa America, Inc. Drives & Motion Division. Yaskawa is the world's largest manufacturer of AC drives and motion control products that include adjustable frequency drives, servo amplifiers, servomotors, machine controllers, and motion controllers.
For example, Highland Controls supports customers with Sigma-5 rotary servo motors and drives, MP2600 single-axis controller/drive and MP2300Siec, MP2310iec, and MP3200iec multi-axis motion controllers.
Additionally, Highland Controls offers products developed and manufactured by Delta Tau Data Systems, Inc., which consistently produces innovative, high-performance machine and motion controllers. Delta Tau products are used by companies around the world, including industries like robotics, semiconductor manufacturing, machine tools, medical, packaging equipment, entertainment, energy, military, and scientific research.
Highland Controls offers Delta Tau Data Systems motion controllers, including:
*UMAC series
*PMAC series
*MACRO interface to Yaskawa and ABB Drives
*GeoPMAC
*GeoBrick
*Turbo Clipper
About Highland Controls
Located in Northeast Ohio (Akron / Cleveland), Highland Controls, LLC is a distributor of industrial motion control and related products. We pride ourselves on being able to assist our customers, from product selection to application programming. Our primary territory includes Northern Ohio, Western Pennsylvania, Northeast Indiana, and Southeast Michigan, but we will travel most anywhere in the world based on our customers' project needs.
We like to take on projects that others are unable to do. Motion control and machine vision are just a couple of our specialties.
Highland Controls supports companies in many ways - whether they need to integrate a stand-alone controller for a small machine or integrate an industrial motion controller, PLC, and PC with a LabVIEW interface and data acquisition. Although we provide products from the lines we carry, we can recommend other products that may be a better fit for a company's latest project.
Featured Product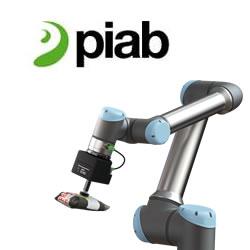 Piab's Kenos KCS gripper enables a collaborative robot to handle just about anything at any time. Combining Piab's proprietary air-driven COAX vacuum technology with an easily replaceable technical foam that molds itself around any surface or shape, the gripper can be used to safely grip, lift and handle any object. Standard interface (ISO) adapters enable the whole unit to be attached to any cobot type on the market with a body made in a lightweight 3D printed material. Approved by Universal Robots as a UR+ end effector.