ABB to assist in developing Persimmon's 3D printing technology for motor component manufacturing.
Washington, DC March 06, 2014

ABB, the leading power and automation technology group, has invested in Massachusetts-based Persimmon Technologies to help develop its 3D deposition technology for motor component manufacturing.
The investment was made through ABB's venture capital unit, ABB Technology Ventures, after a $6 million investment round that included previous investors such as Intel Capital.
Since launching in 2011, Persimmon has been developing disruptive hybrid-field motor technology, a new approach to making motor components using 3D deposition processes that aim to increase power density, eliminate manufacturing steps and reduce component costs. The company's first prototype motor concept increases the stator effective area and produces a higher output motor with comparable size and material cost.
This dynamic development work has been funded in large part by four National Science Foundation grants and this new funding will help Persimmon expand both its existing vacuum robotics product portfolio and invest further in the development of the hybrid-field technology. The ABB investment will also codify joint development of many new Persimmon products, allowing for the exchange of research and development information in industrial motors that Persimmon is producing today.
"ABB has been extremely impressed by Persimmon's team and its R&D efforts to date," said Grant Allen, senior vice president at ABB Technology Ventures. "Its innovations in the motor component manufacturing arena are especially exciting for ABB and we look forward to working closely with Persimmon to build the next generation of motor componentry."
"We are excited to begin working with a global motor technology leader like ABB," said Michael Pippins, CEO of Persimmon. "The addition of such a strong partner to an already impressive investor list puts Persimmon in a great position as we continue commercialisation of our hybrid-field motor technology."
Featured Product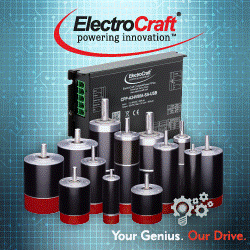 ElectroCraft exhibits its motion control product offer at Robotic related events at trade show and demonstrations across the world. We attend these events and conferences not only to show our motor and drive product offering, but to discuss and learn more about challenges involved with developing commercial robotics across markets.