Anaheim Automation launched their first line of accessories specific to their line of linear guides, expanding their offering even further to make their products more versatile and functional.
Anaheim, CA March 08, 2014

Anaheim Automation's linear guides are a major component of their product offering. Having recently added a new series with plans to release another in the near future, Anaheim Automation is continually striving to improve their product offering so they offer the most complete line of products and accessories possible.
The line of linear guide accessories is slim now, but plans to continue to add new products to this series are in the works. For now, Anaheim Automation has released stainless steel metal stoppers (http://www.anaheimautomation.com/products/accessories/servo-accessories.php?cID=550&pt=t&tID=1183), which can be used on the linear guides to prevent the block and the rail from separating from one another. Available in 4 different rail sizes, these metal stoppers greatly help the user when transporting the rails and blocks, but also during installation. These stoppers are particularly used when rails are mounted vertically (Z-axis), making the installation process significantly easier.
These stoppers are specifically compatible with Anaheim Automation's line of CPC Miniature Linear Guides: http://www.anaheimautomation.com/products/linearcomponents/linear-guides.php?tID=1161&pt=t&cID=543. Anaheim Automation hopes that the addition of these accessories will make these rails easier to use for their customers.
About Anaheim Automation:
Anaheim Automation, Inc. is a manufacturer and distributor of motion control products with over 45 years of experience. Combining enthusiasm, dedication, and innovation, Anaheim Automation strives to supply thousands of customers worldwide with the quality components they require to make their application succeed. Anaheim Automation surpasses competitors with their Stepper product offering, providing one of the largest in the industry. Vast lines of Brushless and Brush DC, Servo and AC motors, controllers and drivers are also offered at competitive prices. High-precision Gearboxes, Tables, Linear Guides, and more provide increased performance and efficiency. For more information about Anaheim Automation and their products, call 714-992-6990 or visit http://www.anaheimautomation.com.
Featured Product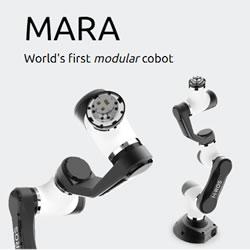 Built out of individual modules that natively run ROS 2.0, MARA can be physically extended in a seamless manner. The modular robot arm delivers industrial-grade features such as a high-speed real time enabled ROS 2.0 communication interface, security protections or a hardware power lifecycle.