The MS-T Series motor control products are ideal for panel designers and end users who are downsizing their panels.
VERNON HILLS, Ill. - Responding to industry demand for a smaller footprint and cost savings in motor control applications, Mitsubishi Electric Automation, Inc., announces the release of MS-T Series contactors and motor control products ranging from 10 to 32 amps. The MS-T Series motor control products are ideal for panel designers and end users who are downsizing their panels.

Upgrades to the new MS-T Series over its predecessor include:
*Standardization - expansion of the operation coil ratings. Terminal cover is now standard.
*Safety and Quality - "finger safe" and "back-of-the-hand safe," to prevent contact with a live terminal.
*Smart wiring - optional streamline terminals, which provides improved wiring efficiency, workability and productivity.
*Global Standards - IEC, JIS, CE, TUV, CCC, UL and cUL.
As part of Mitsubishi Electric's eco-friendly initiative, the MS-T series control products are made of thermo-plastic material branded with material identifications for easy recycling. All Mitsubishi Electric motor control products comply with RoHS regulations.
Mitsubishi Electric Automation supplies a comprehensive line of motor control products, including magnetic contactors, thermal overload relays, open type motor starters and a new manual motor starter series that will exceed customers' expectations with new standardized options and reliable performance.
The standard MS-T series contactors and relays will be in stock and available for purchase on March 1, 2014. Complete migration details and specifications are available at www.meau.com under "motor control" on the products tab.
In addition to motor control products, Mitsubishi Electric Automation offers a comprehensive line of factory automation products and solutions.
Mitsubishi Electric Automation, Inc.
Headquartered in Vernon Hills, Ill., Mitsubishi Electric Automation, Inc., offers a wide range of factory automation products, solutions, training and support services for the industrial and commercial sectors. A U.S. affiliate company of Mitsubishi Electric Corporation, Mitsubishi Electric Automation represents more than 75 years' experience in the automation industry. A broad product portfolio includes programmable automation controllers (PAC), programmable logic controllers (PLC), human machine interfaces (HMI), variable frequency drives (VFD), servo amplifiers and motors, control software, computerized numerical control (CNC), circuit breakers, robots and motion controllers. The company takes its motion control solutions on the road with the 53-foot long Solutions in Motion mobile showroom that appears at tradeshows, training seminars and other events across North America. Additional information about Mitsubishi Electric Automation is available at www.MEAU.com.
In addition to factory automation, Mitsubishi Electric US group companies' principal businesses include semiconductor devices, automotive electrical components, elevators and escalators, heating and cooling products, solar modules, electric utility products, and large-scale video displays for stadiums and arenas. There are 50 locations throughout North America with approximately 3,600 employees.
Featured Product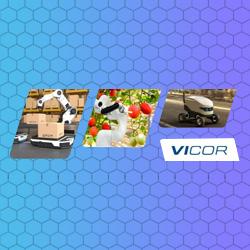 Amphenol Sine Systems ecomate® RSSM (Rugged Superior Seal Metal) Series Circular Metal Connectors are IP69K rated (in mated condition) for industrial applications in a silicone sealed connector system. The series features a bayonet coupling system and are available in 8 shell sizes / 32 insert arrangements. The RSSM series is based on MIL-DTL-26482 specification and is ideal for indoor/outdoor applications.