Company Gears up for Expansion as 3D Printing Adoption Continues to Expand
MINNEAPOLIS & REHOVOT, Israel--Stratasys Ltd. (Nasdaq: SSYS), a manufacturer of 3D printers and materials for personal use, prototyping, and production, today announced the appointment of Gilad Gans as President of its North American operations.

Gilad will oversee Stratasys' North American sales and field operations, and its expansion efforts across the region. He will transition from his role as Executive Vice President of Global Field Operations during the first 6 months of the year. Stratasys has seen strong interest and demand for all its offerings across North America and is committed to address this growing demand.
Since the Objet-Stratasys merger, Stratasys Vice President Woody Frost has been responsible for North American operations in the position of General Manager. After 12 years at Stratasys in a variety of senior executive positions in sales, marketing, and service, Woody will transition to a key role, reporting to Gilad and focusing on North American growth initiatives.
"North America is a key market for us," says Stratasys CEO David Reis. "Our rapid growth and changing market conditions prompted this move to position ourselves to address market opportunities, as well as to support evolving customer needs. Gilad has a track record of establishing and growing significant parts of our business since he joined Stratasys in 2009. We believe that Gilad's expertise and leadership will benefit and support our plans for continued growth in North America, and we look forward to him stepping into this new role."
Stratasys Ltd. (Nasdaq: SSYS), headquartered in Minneapolis, Minn. and Rehovot, Israel, manufactures 3D printers and materials for prototyping and production. The company's patented FDM® and PolyJet™ 3D Printing technologies) produce prototypes and manufactured goods directly from 3D CAD files or other 3D content. Systems include 3D printers for idea development, prototyping and direct digital manufacturing. Stratasys subsidiaries include MakerBot and Solidscape, and the company operates the RedEye digital-manufacturing service. Stratasys has more than 1800 employees, holds over 550 granted or pending additive manufacturing patents globally, and has received more than 20 awards for its technology and leadership. Online at: www.stratasys.com or http://blog.stratasys.com.
Featured Product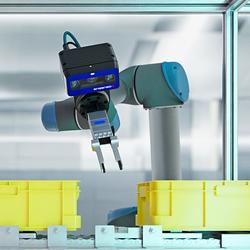 App Your Sensor®! What would smartphones be without apps? They would be mobile phones that can't do much more than make phone calls and sending SMS. Apps turn smartphones into intelligent assistants with any number of different tasks. Transferred into the world of image processing, this app-based approach transforms cameras and sensors into customised, smart vision sensors.