Twenty-Four Winning Teams Recognized in World's Largest K-12 Science Competition
ARLINGTON, Va.--Toshiba and the National Science Teachers Association (NSTA) announced the regional winners of the 22nd annual ExploraVision program, the world's largest K-12 science competition. Designed to build problem-solving, critical thinking, and collaboration skills that are central to the Next Generation Science Standards, the program's winning ideas ranged from technology to stop hurricanes and tornados to devices that help detect and treat diseases, such as cancer, kidney failure and Alzheimer's disease. The twenty-four winning teams will receive a Toshiba laptop for their school, and each member of the team will receive a Toshiba ExciteTM Tablet. The winning teams will also advance to the national phase of the competition where students have a chance to win $10,000 U.S. Series EE Savings Bonds (at maturity) and other great prizes.

"We could not be more proud of the regional ExploraVision winners," said Mr. Masaaki Osumi, Toshiba America Inc.'s Chairman and CEO, and Toshiba's Corporate Representative for the Americas. "Toshiba started the ExploraVision Program with NSTA to encourage students to embrace STEM education. Once again, we are impressed and inspired by the scientists, innovators and engineers of tomorrow."
The ExploraVision participants offer a glimpse into the next generation's vision for our future by imagining what technology might be like in 20 years. Students proposed ideas for new technology based on a challenge or limitation of what already exists, simulated real scientific research to outline how they plan to test their idea and built webpages to further illustrate their concepts.
"Each year, the Toshiba/NSTA ExploraVision program serves as an inspirational reminder of the extraordinary ingenuity that comes from igniting students' natural curiosity," said Dr. David Evans, NSTA Executive Director. "These remarkable students are tackling real issues and envisioning viable solutions that could help affect change and benefit their local communities and the world around them. We congratulate the regional winning teams on their impressive work and commend all the teachers and mentors for encouraging and supporting their students to explore science while helping to expand their knowledge and vision."
Some regional winners focused their projects on helping people live healthier or more comfortable lives. Seventh grade students from Marlboro, NJ designed an invention called iGlasses. These special glasses will automatically adjust its lenses in real time based on the viewers' needs. It will eliminate the need for changing prescriptions, bifocals, and eye/neck strain from computer and smartphone use. Third grade students from Merion Station, PA developed the S.A.F.E.R. system that is designed to save people stuck in rip currents with an inflatable belt that stores pressures and velocity sensors, and GPS technology to help swimmers stay away from dangerous water.
Others focused on environmental issues. Tenth grade students from Manalapan High School in Englishtown, NJ would like to reduce dependency on oil with special car tires and paint. They proposed using piezoelectric tires that will produce electricity when put under pressure and improve the efficiency of a car. Photovoltaic materials, applied to the car as paint, would provide additional power. Together, these two innovations would provide enough power to greatly reduce oil reliance. Third grade students from Mediapolis, IA developed the Tornado Trasher, a helicopter that can go into the eye of a tornado, regulate the air within it and stop the tornado.
Several winning student teams focused on disease prevention and treatment. Sixth grade students from Katherine Delmar Burke School in San Francisco created a device called reMIND. It is designed to help with early detection of Alzheimer's disease and boost patients' memories. Third grade students from L.D. Batchelder School in North Reading, MA designed the Cancer-a-nator, a multi-part system to help prevent, detect and treat lung cancer with 3D holograms.
Since its inception in 1992, more than 330,000 students from across the United States and Canada have participated in the ExploraVision program. The program helps children expand their imagination and have fun while developing an interest in science, technology, engineering, and math (STEM) education at an early age.
The twenty-four regional winners will advance to the national competition. Members of first place nationally winning teams each receive a $10,000 U.S. Series EE Savings Bond (at maturity). Members of second place nationally winning teams will each receive a $5,000 U.S. Series EE Savings Bond (at maturity). Canadian winners receive Canada bonds purchased for the equivalent issue price in Canadian dollars. All first and second place national winners will receive an expense paid trip for their parents/guardians, teacher and mentors to Washington, D.C. for a gala awards weekend in June 2014. Activities will include a visit to Capitol Hill to meet with members of Congress and a Science Showcase during which the students will display and demonstrate their winning ideas. The highlight of the Toshiba/NSTA ExploraVision weekend will be a gala awards banquet and ceremony where students will be formally recognized for their creativity and accomplishments.
For more information or an application for the 2013/2014 program, visit www.exploravision.org or e-mail exploravision@nsta.org. Follow ExploraVision on Twitter at @ToshibaInnovate or join the ExploraVision Facebook Fan Page at www.Facebook.com/ToshibaInnovation.
About Toshiba
Toshiba is a world-leading diversified manufacturer, solutions provider and marketer of advanced electronic and electrical products and systems. Toshiba Group brings innovation and imagination to a wide range of businesses: digital products, including tablets, LCD TVs, notebook PCs, retail solutions and MFPs; electronic devices, including semiconductors, storage products and materials; industrial and social infrastructure systems, including power generation systems, smart community solutions, medical systems and escalators & elevators; and home appliances. Toshiba was founded in 1875, and employs over 20,000 people in North America and Toshiba America, Inc., is the holding company for five Toshiba operating companies in the United States.
Toshiba's North-America based companies and some of their chief products are as follows: Toshiba America Electronic Components, Inc. (Semiconductors, Flash Memory-Based Storage Solutions, LCD, custom chips, and Hard Disk Drives); Toshiba America Information Systems, Inc. (Tablets, Laptop Computers, Telephony Products, Flat Panel LCD TVs, and portable products); Toshiba America Business Solutions, Inc. (Copiers, Facsimiles, Printers and Digital Signage); Toshiba International Corporation (Motors, Motor Controls, Power Electronics, Power Generation Equipment, Automation); Toshiba America Medical Systems, Inc. (Computed Tomography, Magnetic Resonance, X-ray and Ultrasound); Toshiba America Nuclear Energy Corporation (Advanced Boiling Water Nuclear Reactors); Toshiba America Foundation (Supports science and mathematics education across the United States) and Toshiba of Canada, Ltd. (Made up of four operating divisions).
About NSTA
The Arlington, VA-based National Science Teachers Association (NSTA) is the largest professional organization in the world promoting excellence and innovation in science teaching and learning for all. NSTA's current membership includes approximately 55,000 science teachers, science supervisors, administrators, scientists, business and industry representatives, and others involved in science education.
Featured Product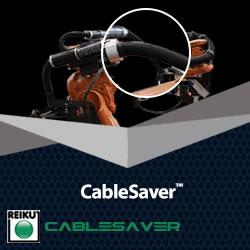 REIKU's Cable Saver™ Solution eliminates downtime, loss of revenue, expensive cable and hose replacement costs, maintenance labour costs. It's available in three sizes 36, 52 and 70 mm. All of the robots cables and hoses are protected when routed through the Cable Saver™ corrugated tubing. The Cable Saver™ uses a spring retraction system housed inside the Energy Tube™ to keep this service loop out of harms way in safe location at the rear of the Robot when not required. The Cable Saver™ is a COMPLETE solution for any make or model of robot. It installs quickly-on either side of the robot and has been tested to resist over 15 million repetitive cycles.