Seegrid, the leading manufacturer of flexible AGVs, also known as robotic industrial trucks, will be launching its newest product at MODEX 2014 in booth #7317 in Atlanta, GA.
The GWS35 is equipped with Seegrid's patented vision-guided autonomous navigation system and automatically transports palletized loads through manufacturing and distribution environments.

The revolutionary flexible GWS35 walkie stacker automatically picks, drops, stacks, and puts away loads up to 72 inches at a maximum load capacity of 3,500 pounds. The GWS35 is state of the art yet simple to use, as it does not require any additional infrastructure, costly expansion, redesign into a facility, or a specialized team of engineers to install, support, or operate the flexible vision-guided GWS35.
Jeff Christensen, Director of Product Development for Seegrid stated, "With the flexible GWS35 walkie stacker, we have expanded our traditional horizontal transportation line to include a vision-guided product capable of picking or placing pallets on a conveyor, an ergonomic lifting table, or in racking. This innovative product provides a simple and affordable automation solution for all manufacturing and distribution facilities looking to improve the overall safety in a plant, while boosting efficiency and productivity."
The vehicle offers fast and effective deployment within hours instead of weeks, has the ability to change routes quickly and easily, operates safely with workers and equipment, and provides the most operational flexibility for the automation of internal material flow in distribution and manufacturing facilities. The GWS35 rapidly reduces labor and operating costs while creating a lean, productive, and efficient operation.
Seegrid is proud to introduce the GWS35 at MODEX 2014 and will have product demonstrations in booth #7317. The flexible vision-guided GWS35 provides cost-effective initial investment and low total cost of ownership, while delivering affordable transport with a rapid payback.
http://www.seegrid.com
Featured Product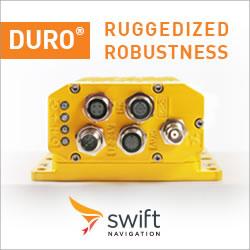 Duro® is a ruggedized version of Swift Navigation's Piksi® Multi RTK GNSS receiver. Built to be tough, Duro is designed for easy integration into existing equipment. This affordable, easy-to-deploy GNSS sensor delivers robust, centimeter-accurate positioning while protected against weather, moisture, vibration, dust, water immersion and the unexpected that can occur in outdoor long-term deployments.