Strengthens Focus on Next Generation Motor Technology
Fremont, CA - (March 20, 2014) - NovaTorqueTM, Inc. (www.novatorque.com), a Fremont CA based supplier of ultra-efficient, cost-effective, electronically commutated permanent magnet motors, today announced that Ramon Guitart has joined the company as Vice President of Engineering.

Ramon has almost 30 years experience in motors and motor applications. Most recently he led a large global R&D team at TECO-Westinghouse Motor Company. Prior to that, Ramon worked in various engineering management and design engineering roles at GE Electric Machinery (now WEG), Pentair Corporation, and Rockwell Corporation.
"I am excited to welcome Ramon to NovaTorque. His deep expertise with motors and motor-based applications will enhance our ability to develop new products and continue delivering affordable, high efficiency motors to our customers," said Emily Liggett, NovaTorque CEO. "NovaTorque is privileged to have motor technology experts like Ramon Guitart, Alan Crapo, CTO, and John Petro, NovaTorque founder and board member, as part of our incredibly strong and innovative team."
ABOUT NOVATORQUE, INC.
Based in Fremont, CA, NovaTorque is a producer of electronically commutated permanent magnet electric motors. The Company is dedicated to delivering the superior energy efficiency of permanent magnet motors at price points more comparable to the common AC induction motor. NovaTorque accomplishes this through an innovative, flux-focusing, design that allows for the use of ferrite rather than rare-earth magnets. The Company is an active member of the Air Movement and Control Association (AMCA) and National Electrical Manufacturers Association (NEMA).
For more information visit www.novatorque.com, call 510-933-2700, or email info@novatorque.com.
Featured Product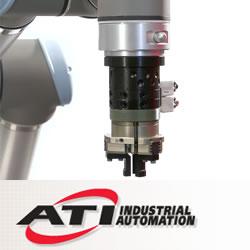 The ATI Robotic Tool Changer provides the flexibility to automatically change end-effectors or other peripheral tooling. These tool changers are designed to function reliably for millions of cycles at rated load while maintaining extremely high repeatability. For this reason, the ATI Tool Changer has become the number-one tool changer of choice around the world. ATI Tool Changer models cover a wide range of applications, from very small payloads to heavy payload applications requiring significantly large moment capacity.