The Industry's First Monolithic ICs Realizing 10A Output Current and 50V Withstand Voltage
TOKYO--Toshiba Corporation (TOKYO:6502) today announced the launch of "TB67H303HG", a one-channel DC brush motor driver IC for industrial equipment. The product is the industry's first1 monolithic2 IC to realize 10A output current and 50V withstand voltage. Mass production shipments start today.

High output current and voltage are required for motor driver circuits in industrial equipment. That makes it difficult to design circuits with a single driver IC, as the high current generates heat. Multiple discrete semiconductors are generally used in order to reduce heat generation in each component.
"TB67H303HG" adopts the latest high voltage analog process, reducing on resistance to 80% that of its predecessor3, to 0.2Ω or less. The new IC contributes to the reduction of discrete semiconductor devices, and to simplification and downsizing of applications.
The IC also incorporates abnormality detection functions, contributing to improved safety for high current motor drive.
Key Features
*Driving mode
*Selectable from two driving modes: standard direct PWM mode, or newly adopted constant current PWM mode.
*High current drive
*Low on resistance of 0.2Ω or less (sum of upper and lower) realizes absolute maximum output current of 10A.
*Built-in abnormality detection functions
*Incorporates a thermal shutdown circuit, over current detection, and undervoltage lockout (UVLO) circuit, which improve the safety of the high current motor drive.
Applications
Industrial equipments, banking terminals such as banknote recognition systems, home appliances including sewing machines, and office automation equipment.
Key Specifications
*Product Name TB67H303HG
*Power Supply Voltage Absolute maximum rating: 50V
*Output Current Absolute maximum rating: 10.0A
*Functions Control single brush motor (Forward, Reverse, Short brake, and Stop)
*Other Features Built-in standby function
Constant current PWM mode is selectable, in addition to the standard direct PWM mode.
Built-in abnormality detection functions (Thermal shutdown circuit, Over current detection, and Undervoltage lockout circuit)
Power supply applying sequence is free by single power driving.
*Package HZIP25
Notes:
1: Survey by Toshiba Corporation, as of March 24, 2014.
2: One chip is used in one package.
3: Comparison with "TB67H400AFTG"
Customer Inquiries:
Mixed Signal IC Sales and Marketing Department
Tel: +81-44-548-2821
Information in this document, including product prices and specifications, content of services and contact information, is current on the date of the announcement but is subject to change without prior notice.
About Toshiba
Toshiba is a world-leading diversified manufacturer, solutions provider and marketer of advanced electronic and electrical products and systems. Toshiba Group brings innovation and imagination to a wide range of businesses: digital products, including LCD TVs, notebook PCs, retail solutions and MFPs; electronic devices, including semiconductors, storage products and materials; industrial and social infrastructure systems, including power generation systems, smart community solutions, medical systems and escalators & elevators; and home appliances.
Toshiba was founded in 1875, and today operates a global network of more than 590 consolidated companies, with 206,000 employees worldwide and annual sales surpassing 5.8 trillion yen (US$61 billion). Visit Toshiba's web site at www.toshiba.co.jp/index.htm
Featured Product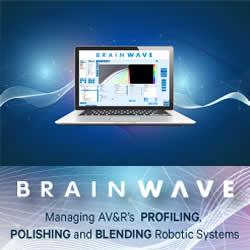 The AV&R team has developed a software for our robotic machines with the mission to make robotics accessible to everyone. This software is the glue which orchestrates the interaction between the system components in a single user-friendly interface. Comparing our machines to ourselves as humans, this software would be the control center of all faculties of the body, hence its name: BrainWave.