Automate 2015, North America's leading automation event, will be held March 23-26, 2015 at McCormick Place in Chicago.
Automate 2015 to be Held in Chicago, March 23-26, 2015

(Ann Arbor, Michigan, USA - March 25, 2014) Even though the Automate 2015 show is still twelve months away, automation companies from around the world have already reserved more exhibit space for Automate 2015 than they did for the last show in 2013. Automate 2015, North America's leading automation event, will be held March 23-26, 2015 at McCormick Place in Chicago.
"Excitement is building as automation companies continue to innovate and develop new technologies," said Jeff Burnstein, President of the Association for Advancing Automation (A3), primary sponsor of the Automate 2015 Show and Conference. "The statistics we gather in the robotics, vision and motion control industries show that automation use is growing in traditional manufacturing and new markets, such as life sciences, food and semiconductors. We feel this momentum from our many exhibitors who are reserving more space, along with new exhibitors who want to reach the 30,000+ registered attendees that we're expecting for Automate and our partner collocated trade show, ProMat."
Among the 116 companies that are already committed to exhibiting, 19 have never exhibited at Automate before. Twenty-eight companies that have exhibited previously are expanding their space in order to display more of their technologies. "Though the show is already larger than 2013, we do have more space available," added Burnstein. "I encourage all automation related companies to strongly consider joining us in Chicago next year."
Current exhibitors include leading companies involved in robotics, vision, motion control, sensors, safety equipment, end effectors, software, conveyors, feeding equipment, and related automation products. A special pavilion at the front of the show is devoted to system integrators who will present a broad range of applications in areas such as material handling, assembly, welding, inspection, and material removal.
For more information and details about Automate 2015, please visit www.automateshow.com. You can also contact Kathleen Straight at kstraight@a3automate.org or 734-994-6088. Automate 2015 will be collocated with ProMat 2015, North America's leading warehousing and distribution show, sponsored by MHI.
About the Organizer
Automate is organized by the Association for Advancing Automation, the global advocate for the benefits of automating. A3 promotes automation technologies and ideas that transform the way business is done. A3 is the umbrella group for Robotic Industries Association (RIA), AIA - Advancing Vision + Imaging, and Motion Control Association (MCA). RIA, AIA, and MCA combined represent 750 automation manufacturers, component suppliers, system integrators, end users, research groups and consulting firms from throughout the world that drive automation forward.
For more information, please visit our websites: A3; RIA; AIA; MCA. Automate Show and Conference information can be found at www.automateshow.com. To reach Association Headquarters, call 734-994-6088.
Featured Product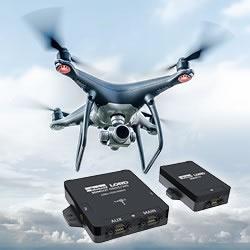 The new complete inertial navigation solution comes with GNSS/INS 3DMGQ7 sensor, 3DMRTK correction modem and real time SensorCloud RTK correction network. The sensor comes with Dual antenna GNSS, tactical grade IMU with centimeter-level accuracy with RTK. Low profile and light weight at 78 grams, this sensor is The sensor is optimized for size and weight in Unmanned Ground Vehicles, mobile robots and autonomous vehicles. The network interface 3DMRTK modem is seamlessly integrated into the 3DMGQ7 sensor supports industry-standard NMEA and RTCM 3.1 protocols. The network RTK support comes with cellular data plan. The SensorCloud RTK is a cloud-based RTK correction system with private encrypted data stream. Check out our G Series and C Series OEM products.